If you're planning a vacation in North Carolina and seeking the ultimate in relaxation and luxury, all-inclusive resorts should be at the top of your list. These resorts offer a one-stop solution for travelers, with everything you need for a perfect getaway bundled into one package. From stunning natural landscapes to top-notch amenities, North Carolina boasts several exceptional all-inclusive resorts that cater to every traveler's desire. In this article, we'll explore the "10 Best All Inclusive Resorts in North Carolina."
What Are All-Inclusive Resorts?
All-inclusive resorts are vacation destinations that provide an all-encompassing experience, typically covering accommodation, meals, beverages, and various activities. This arrangement allows travelers to enjoy their stay without worrying about extra costs or planning their daily itineraries.
Why Choose an All-Inclusive Resort?
Choosing an all-inclusive resort offers multiple benefits. It simplifies the planning process, makes budgeting easier, and ensures you get a full experience without constantly reaching for your wallet. Additionally, these resorts often provide high-quality services and offer a sense of exclusivity.
The Appeal of North Carolina
North Carolina is a state known for its diverse natural beauty, from the majestic Blue Ridge Mountains to pristine beaches along its coastline. This diversity makes it a fantastic destination for all-inclusive resorts, offering both mountain and beach experiences.
Top 10 All-Inclusive Resorts in North Carolina
Now, let's explore the top 10 all-inclusive resorts in North Carolina that promise a delightful and memorable escape.
1. Pinehurst Resort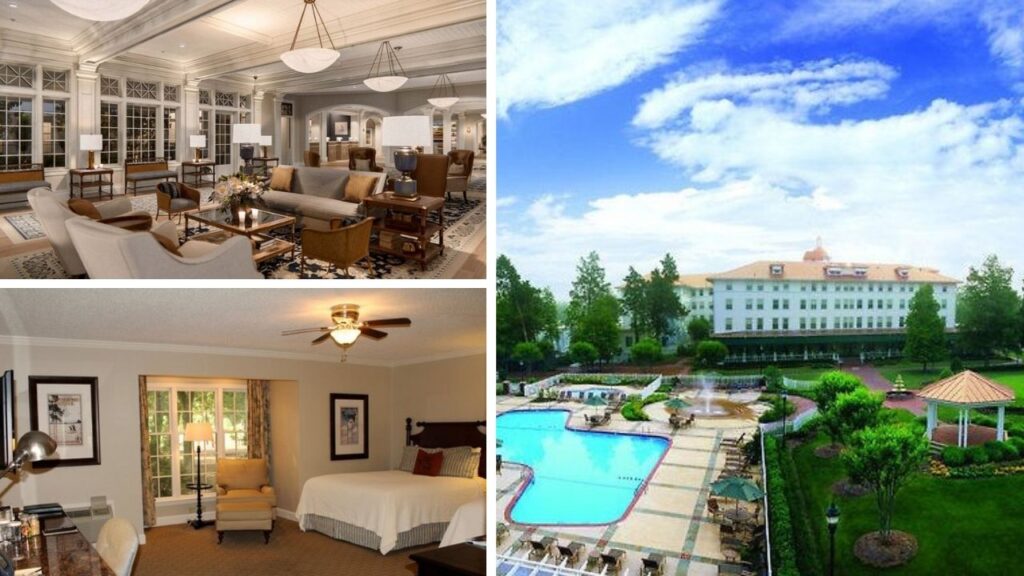 Nestled in the heart of North Carolina, Pinehurst Resort is a world-renowned destination that seamlessly blends history, luxury, and natural beauty. This captivating resort has been an iconic destination for golf enthusiasts, vacationers, and event planners for over a century. Join us as we take an in-depth journey through the Pinehurst experience.
Pinehurst is synonymous with exceptional golfing experiences. With its nine world-class golf courses, including the renowned Pinehurst No. 2, designed by the legendary Donald Ross, the resort is a golfer's paradise. Immerse yourself in the sport and enjoy top-notch facilities, instruction, and tournaments. The annual U.S. Open championship has graced these links, further solidifying Pinehurst's place in golf history.
Your stay at Pinehurst will be nothing short of luxurious. The resort offers a wide range of accommodation options, from elegant rooms and suites in the Carolina Hotel to charming cottages, each designed to cater to your comfort and preferences. The accommodations embody Southern hospitality and provide a serene escape.
2. Omni Grove Park Inn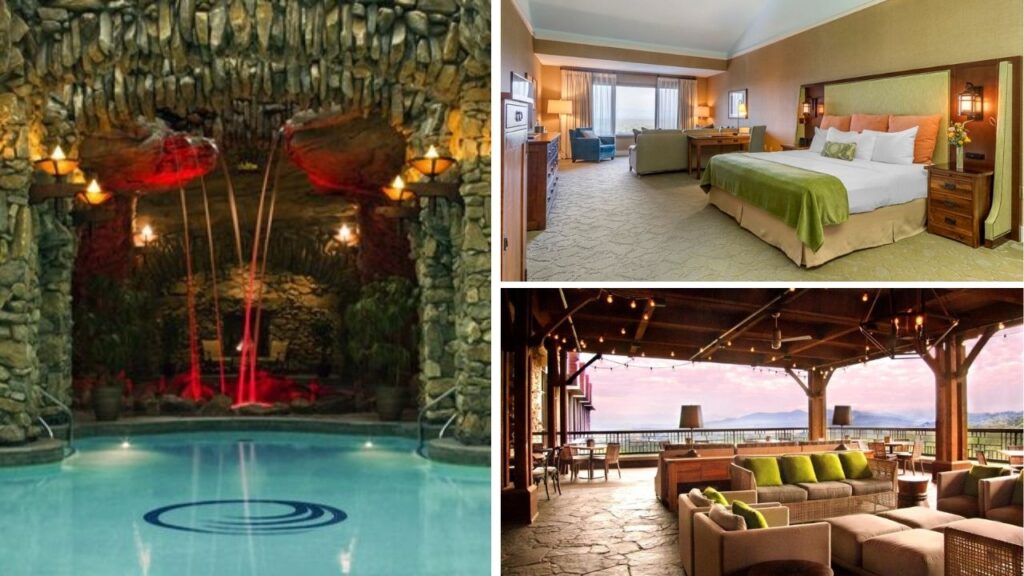 The Omni Grove Park Inn, located in the picturesque city of Asheville, North Carolina, is a true gem among resorts. It's not just a place to stay; it's an experience, a journey through time, and a taste of luxury amidst the beauty of the Blue Ridge Mountains.
If you're seeking a getaway that combines history, natural splendor, and modern-day opulence, the Omni Grove Park Inn is the perfect destination. Nestled in the heart of the Blue Ridge Mountains, this resort has been a haven for travelers since 1913, offering a unique blend of relaxation and adventure.
Guests at the Omni Grove Park Inn can choose from a variety of accommodations, each designed to provide both comfort and luxury. Whether you opt for a cozy room, a spacious suite, or a private cottage, you'll enjoy breathtaking views of the surrounding mountains and golf course.
3. Sanderling Resort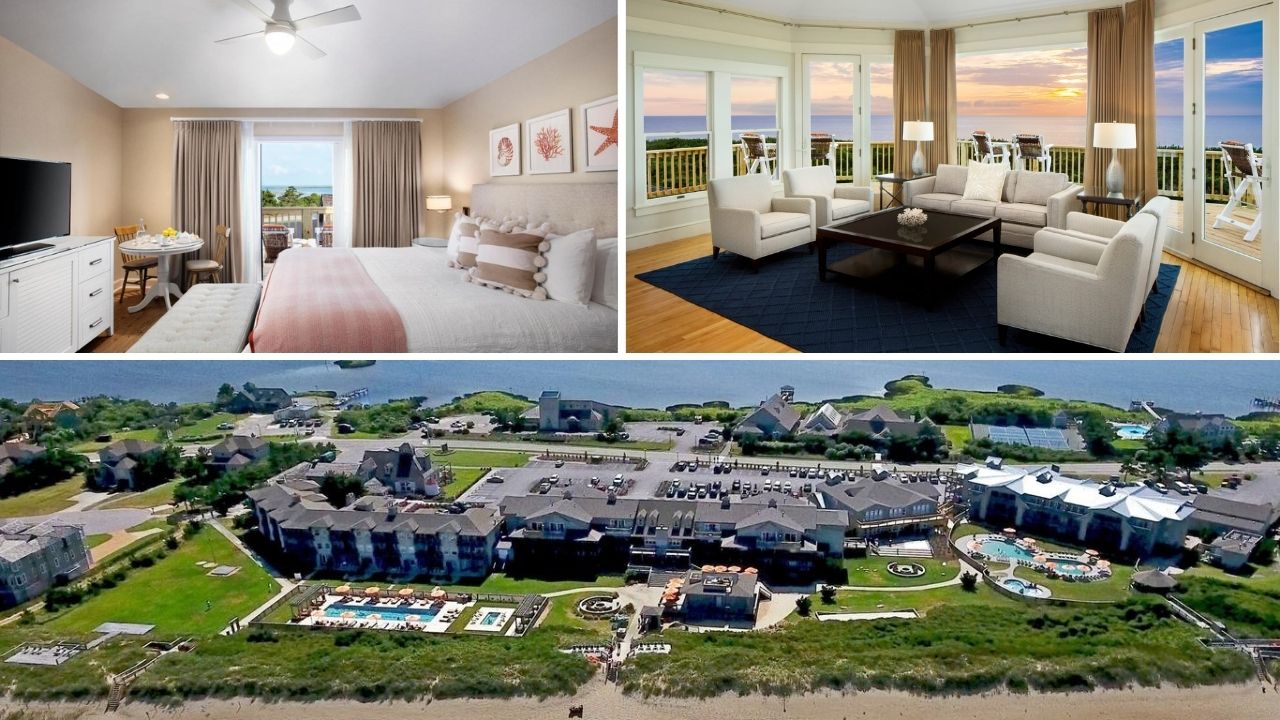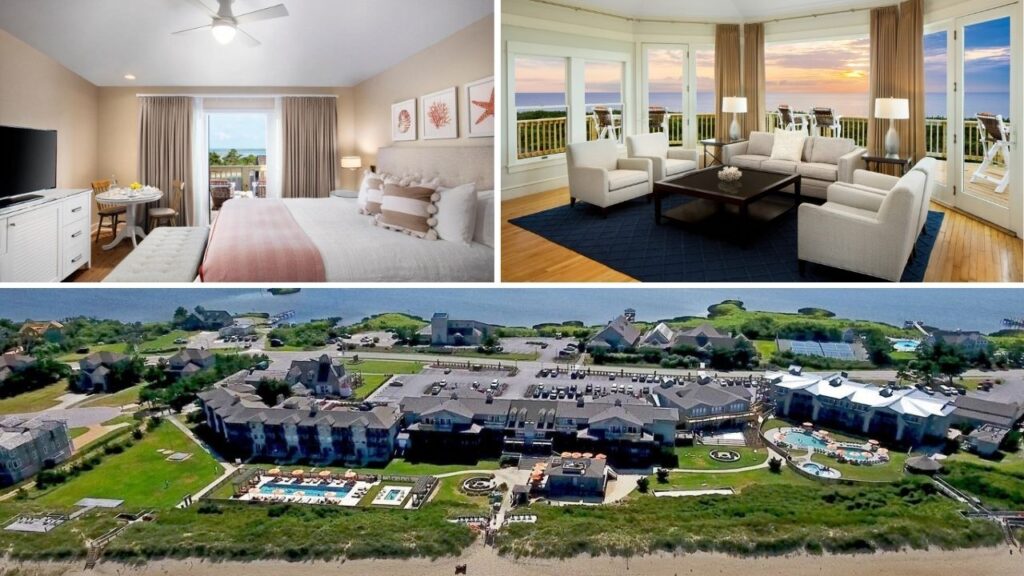 Sanderling Resort, nestled on the pristine shores of North Carolina's Outer Banks, is a place where coastal charm, luxury, and relaxation converge. Offering a unique blend of history, modern amenities, and natural beauty, this coastal gem is a haven for travelers seeking an escape from the everyday hustle and bustle.
The resort offers a range of accommodation options, from cozy guest rooms to spacious suites and vacation homes. All rooms are beautifully appointed and come with modern amenities, ensuring a comfortable stay. With various lodging choices, guests can find the perfect space to suit their needs.
4. The Winds Resort Beach Club
Welcome to The Winds Resort Beach Club, a hidden gem nestled along the pristine coastline of Ocean Isle Beach, North Carolina. In this article, we'll take you on a journey to explore this charming beachfront resort, providing insights into its history, accommodations, activities, dining, wellness options, and more. So, grab your sunscreen and flip-flops as we dive into what makes The Winds Resort Beach Club the perfect coastal getaway.
One of the highlights of The Winds Resort Beach Club is its diverse range of accommodations. From oceanfront suites to cozy cottages, there's something to suit every traveler's preferences. Each room is designed to provide comfort and stunning ocean views, ensuring a memorable stay.
5. Grandover Resort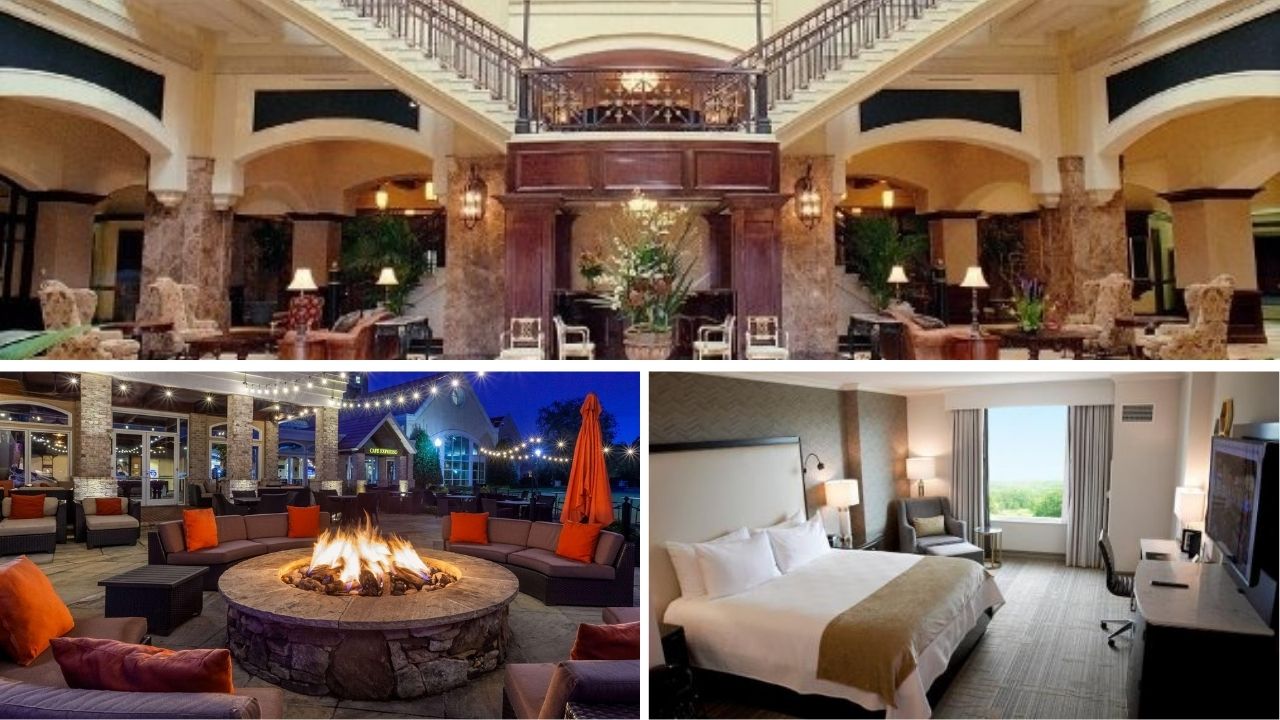 Planning your next vacation? Look no further than the luxurious and serene Grandover Resort. Nestled in the heart of North Carolina, this lavish retreat offers an unparalleled experience for those seeking a perfect blend of relaxation and recreation. In this article, we will explore every aspect of the Grandover Resort, from its rich history to its world-class amenities. Join us on a journey through this magnificent destination.
When you stay at Grandover Resort, you have a variety of accommodation options to choose from. Whether you're looking for a spacious suite, a cozy room, or a private villa, the resort has it all. Each room is designed to provide you with a comfortable and memorable stay.
6. Lakeview at Fontana
Lakeview at Fontana Resort is a pristine gem nestled amidst the enchanting landscapes of Fontana Lake in North Carolina. This article will take you on a captivating journey through this serene haven, offering insights into the resort's natural beauty, recreational activities, and its charming accommodations.
Fontana Lake is a magnificent reservoir created by the Fontana Dam, stretching across 29 miles and surrounded by the Nantahala National Forest. The lake is known for its crystal-clear waters and pristine beauty, offering visitors an enchanting view of the Great Smoky Mountains.
Lakeview at Fontana Resort capitalizes on its tranquil location by providing guests with stunning lakefront accommodations. Whether you opt for a cozy cabin or a comfortable cottage, you're guaranteed a front-row seat to the mesmerizing beauty of the lake and the surrounding mountains.
7. The Ritz-Carlton, Charlotte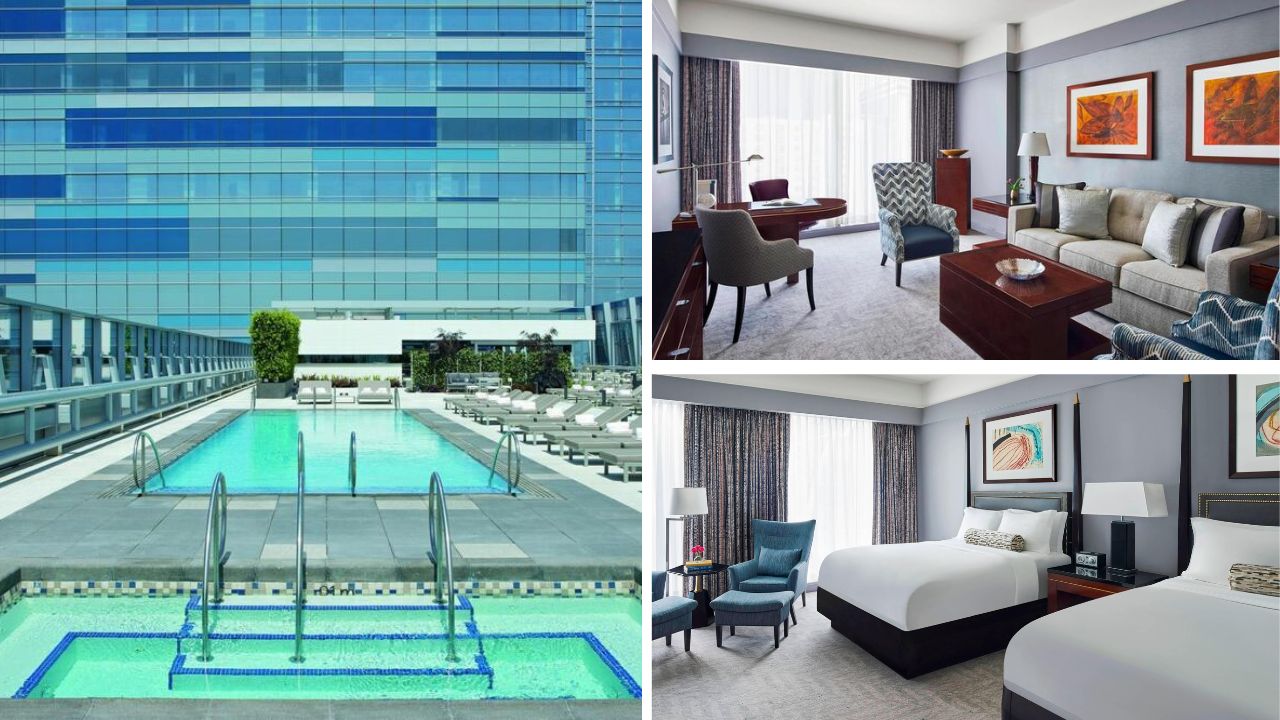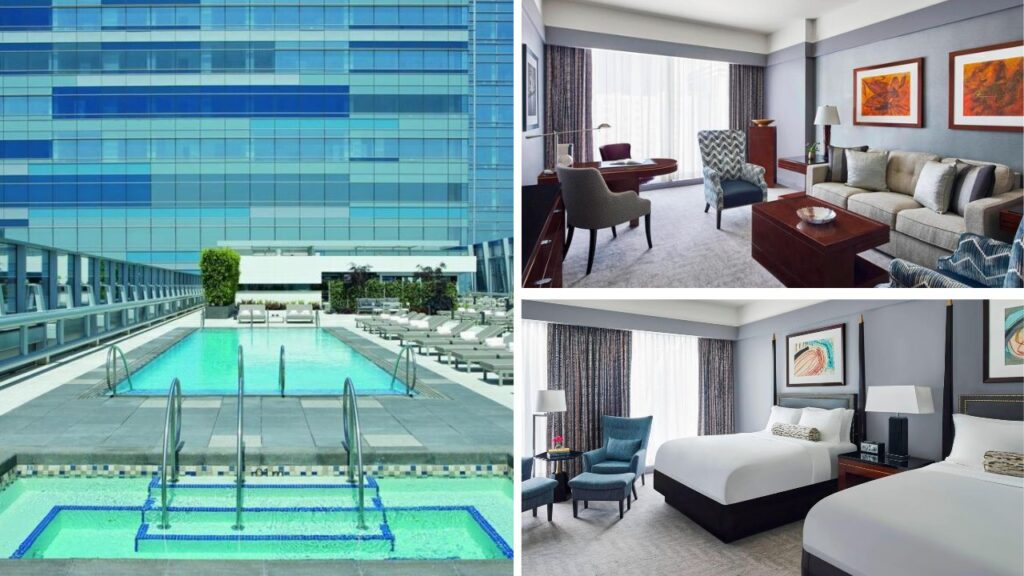 The Ritz-Carlton, Charlotte, is an epitome of luxury and sophistication. As part of The Ritz-Carlton brand, it adheres to the highest standards of service and comfort, offering guests a remarkable experience. Located in the heart of Charlotte, North Carolina, this hotel combines the rich history of the city with modern luxury.
Guests at The Ritz-Carlton, Charlotte, can expect nothing but the finest accommodations. The suites are designed to provide a perfect blend of comfort and opulence, and the personalized services make every stay a memorable one.
8. The Greystone Inn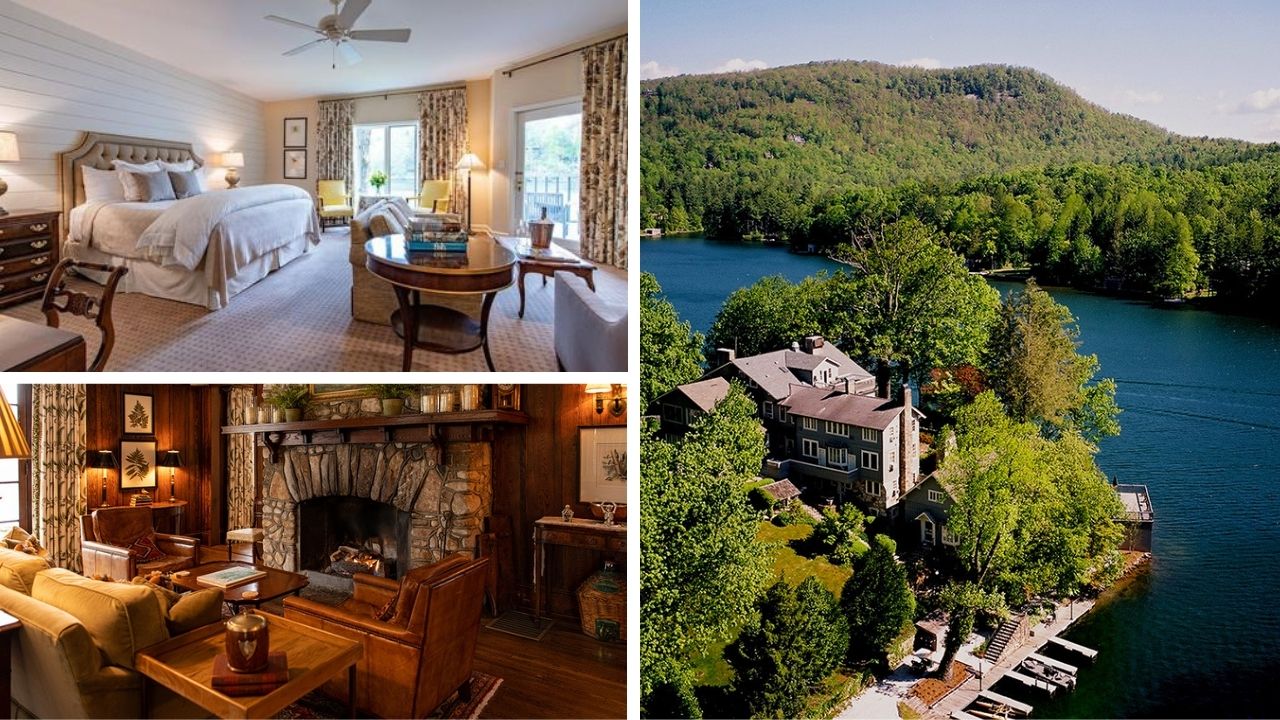 The Greystone Inn Resorts is a luxurious and prestigious resort located in a breathtaking natural setting. Whether you're looking for a romantic getaway, a family vacation, or a corporate retreat, The Greystone Inn Resorts offers an exceptional experience for all guests.
Nestled in a charming location, The Greystone Inn boasts stunning views of a lake, mountains, or other natural wonders, providing a serene and beautiful backdrop for guests.
The resort provides a variety of accommodation options, from well-appointed rooms to private villas and cabins, all designed for maximum comfort and relaxation.
9. The Swag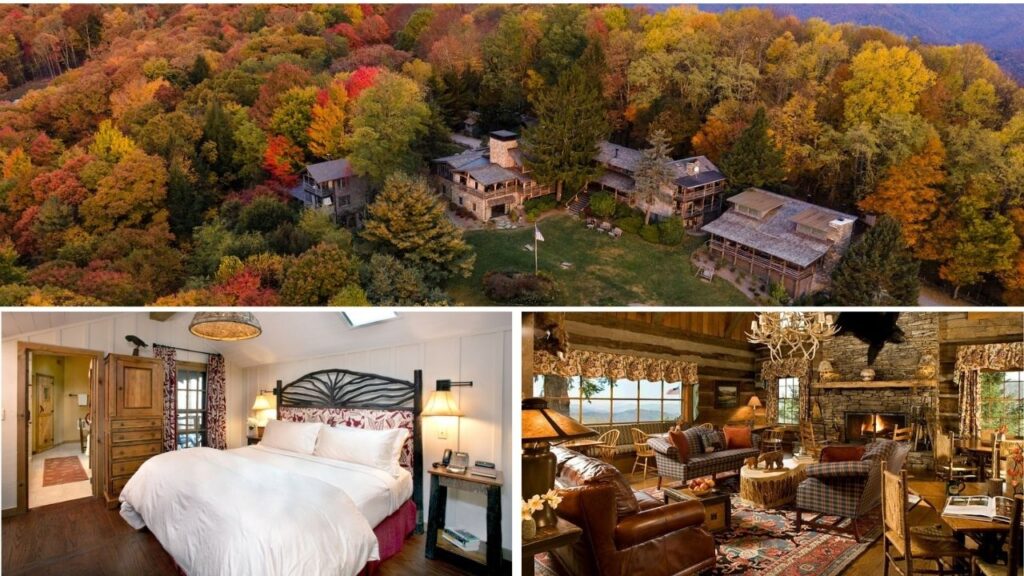 Welcome to the world of Swag Resorts, where luxury seamlessly blends with the natural beauty of the Earth. In this article, we will take you on a journey through the enchanting realm of Swag Resorts, exploring their history, amenities, sustainability initiatives, and how you can experience a slice of paradise for yourself.
Swag Resorts are a collection of exclusive luxury properties located in some of the most breathtaking and pristine natural settings across the globe. These resorts are known for their opulent accommodations, world-class dining, and a commitment to preserving the environment.
10. 21c Museum Hotel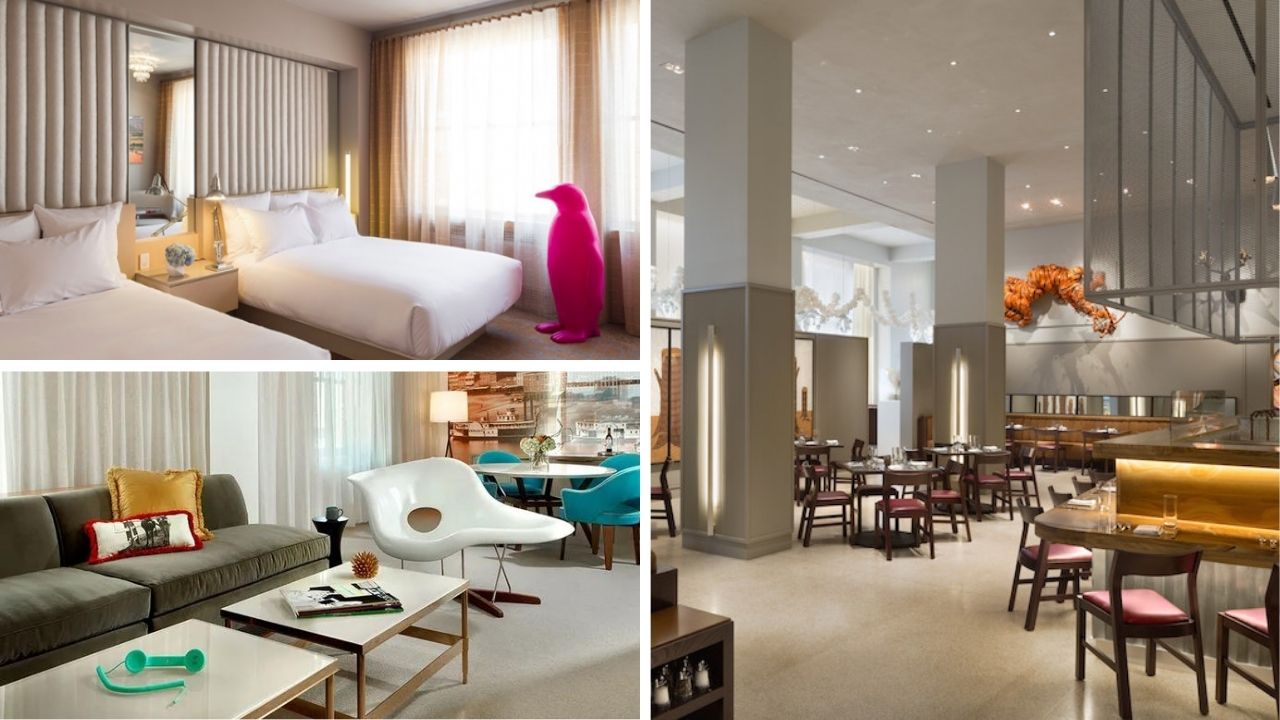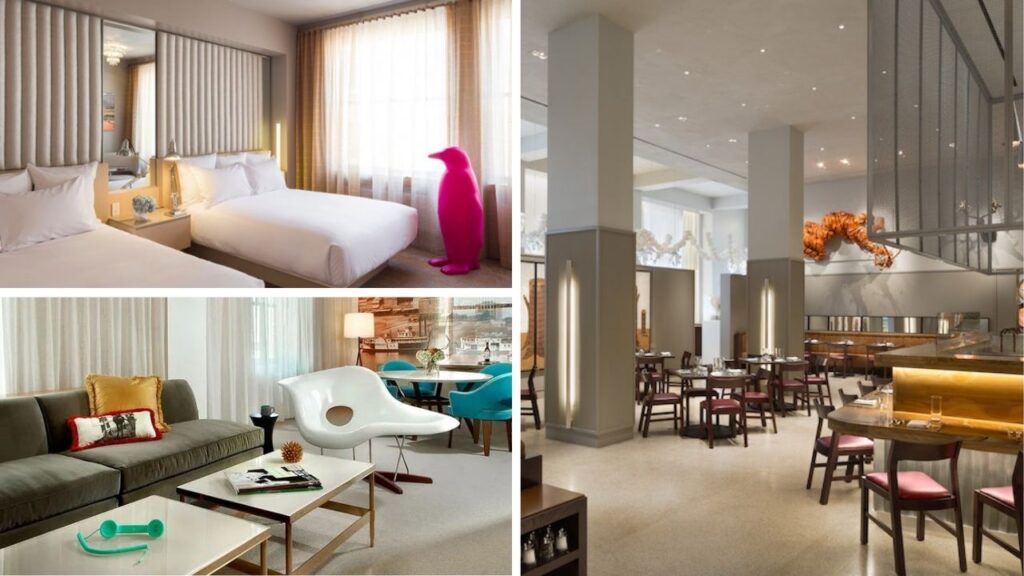 Nestled at the crossroads of art, luxury, and culture, the 21c Museum Hotel is an extraordinary establishment that offers an unparalleled experience to its visitors. This unique hotel seamlessly combines the world of contemporary art with first-class hospitality, creating an oasis for art aficionados and travelers seeking a one-of-a-kind stay.
The 21c Museum Hotel is not merely a place to rest your head; it's a visual masterpiece. As you step into the hotel's lobby, you are greeted by a breathtaking display of contemporary art. From paintings and sculptures to digital installations, the hotel's commitment to art is evident in every corner.
What to Expect at All-Inclusive Resorts
Guests can expect well-appointed rooms, a range of included activities, and personalized service. Many resorts include golf, spa treatments, hiking, and water sports. Some even provide special kids' programs for family vacations.
Activities and Amenities
All-inclusive resorts in North Carolina offer a wide array of activities, such as golf, spa treatments, hiking, fishing, and water sports. The amenities are top-notch and designed to cater to your every need.
Dining Experiences
Fine dining is often a highlight at these resorts. You can savor exquisite local cuisine and international dishes, often accompanied by a stunning view.
Exploring the Surrounding Area
Don't miss the chance to explore the beautiful surroundings of North Carolina. Whether you prefer the beach, mountains, or city attractions, there's something for everyone.
When to Visit
The best time to visit North Carolina depends on your preferences. Spring and fall are pleasant for outdoor activities, while summer is great for beach vacations, and winter offers a cozy mountain experience.
How to Choose the Right Resort
Consider what you value most in a vacation and choose a resort that aligns with your preferences, whether it's golf, relaxation, or adventure.
Budget Considerations
All-inclusive resorts come in various price ranges. Consider your budget and look for packages that suit your financial plan.
Guest Reviews and Recommendations
Before making a decision, read guest reviews and recommendations. These can provide insights into the guest experience and help you choose the perfect resort for your needs.
Conclusion
North Carolina's all-inclusive resorts offer an unparalleled vacation experience, combining natural beauty, luxurious amenities, and a relaxed atmosphere. Whether you're seeking outdoor adventures or a tranquil retreat, the diverse options in this state ensure you'll find the perfect getaway.
Frequently Asked Questions (FAQs)
Are all-inclusive resorts in North Carolina expensive?

The cost varies, but there are options to suit different budgets.

Do all-inclusive resorts include alcoholic beverages?

Many do, but it's best to check with the specific resort.

What are some common activities at these resorts?

Activities can include golf, spa treatments, water sports, and more.

Is it necessary to make reservations in advance?

It's recommended, especially during peak seasons.

Can I find all-inclusive resorts suitable for families with children?

Yes, many resorts offer family-friendly amenities and activities..
Get ready to experience North Carolina in a new light. These all-inclusive resorts provide everything you need for an unforgettable vacation. Book your stay today and let the adventure begin!.