Traveling to Sri Lanka? Congratulations, this is a very good choice! If you do decide to go, you will likely come ashore and arrive in Colombo first, the vibrant city that is the capital city of Sri Lanka.
Colombo is a very busy city with a rich past and cultural history. Sometimes it gets quite busy and full of crowds, tuk-tuks, shops, churches, restaurants, upscale hotels, shopping and interesting architecture. There are beautiful Sri Lankan colonial buildings everywhere, with Portuguese, Dutch and English influences and modern structures.
Wondering what are the top things to do in Colombo? During my 10 day adventure in Sri Lanka, I explored Colombo for two full days and now I can give you a personal guide on what is worth visiting in this exciting city! Are you ready?
The Colombo City
Some people choose to cross Colombo during their travels around Sri Lanka. But personally I would include at least one day, and especially if you've never been to a similar country before. (Such as India, for example)
Just walking the streets of Colombo is a unique experience in itself that will allow you to experience the hustle and bustle of city life in Sri Lanka. If you are going to visit other places in Sri Lanka (you must!), You will be able to compare "life in the big city" to the traditional, rich in nature, which will enhance your experience even more.
As I mentioned above, there are a lot of things to do in Colombo, and of course there are plenty of street food options! From walking on Gail Face Green, visiting colorful temples and taking them to the beach for shopping, drinking Ceylon tea, visiting local markets, falling in love with the beautiful colonial buildings, you'll have plenty to do in Colombo II. Three days. If you read my list below, you will be able to create the perfect itinerary for your tastes. However, my to-do list in Colombo can be put in for a day, or if you have a flight delay and you know you will be tired on the first date, you can divide the activities between the two days. (As we do).
However, if you only have one day in the city and are looking for an organized tour that will allow you to see as many of the famous landmarks as possible, I recommend a full day sightseeing tour.
Alright, let's have a look at the 14 best things to do in Colombo, Sri Lanka:
1. Just Walk Around The City
Walking around Colombo is the best way to truly experience the flavor of the city. For example, I recommend walking along the lively Malvaththa Road and there are also shops with bags, clothes, shoes, wooden dolls, souvenirs and much more that you can imagine. If you want to admire the beautiful colonial architecture, then the Colombo Fort area (around the main train station in the city called "Colombo Fort Railway Station"). I really like it! Galle Face Green is a great spot for a stroll as well. But I will go over 8 in more detail on my list below.
I explored Sri Lanka with my chauffeur guide for 10 days, but if you haven't organized a tour planned for all of your vacations then I highly recommend doing this walking tour of the city. I always love to hang around with a guide who will explain interesting things about the history of the city. That way, I know that I can understand more of the things I see, and I always find good stories, interesting, and fun facts.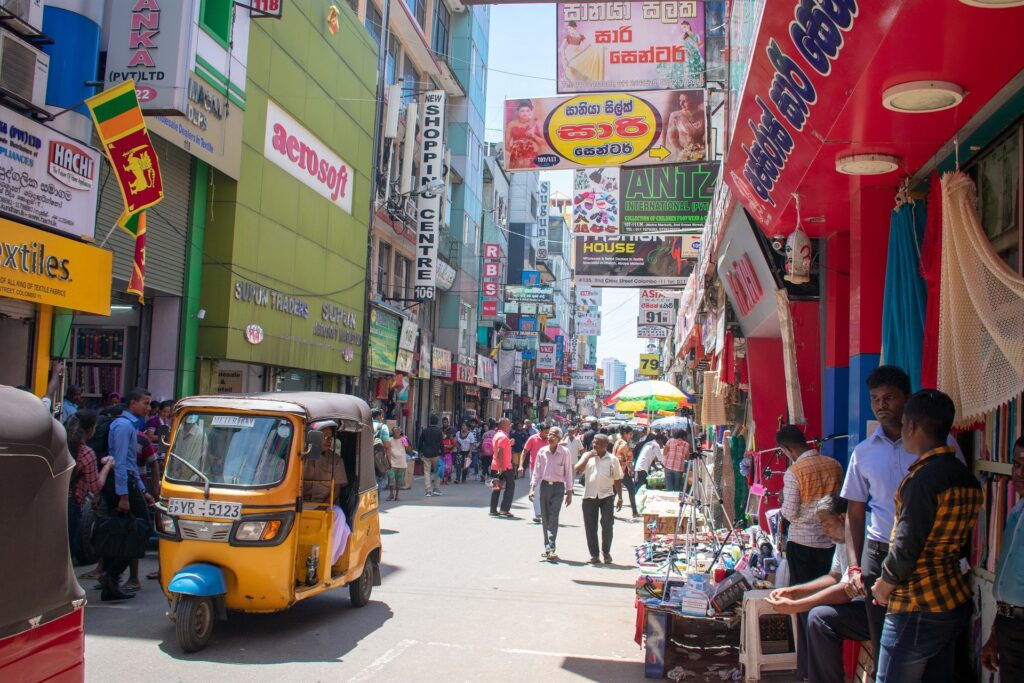 2. City Tour
If you don't really know what to do in Colombo or you are tired of walking and want something more entertaining instead, I recommend that you either take an open deck bus tour or a tuk-tuk Take a trip. These are your two best choices for Colombo sightseeing!
We took an open double decker tour and, on our way, we saw many interesting places such as World War II Memorial, Lotus Tower (the tallest self-supported building in South Asia), Old Parliament Building, Town Hall, Independence Memorial Hall, Old Colombo Dutch Hospital, Dawatgah Jumma Masjid Mosque and more. Basically all the famous attractions in Colombo!
If you know just as much as I am a foodie, there is also the possibility of taking a street food walking tour in Colombo! The guide will take you from street stalls and local restaurants (hoppers, kottu, dhal, seafood and more) to taste 5-6 authentic Sri Lankan cuisine. I definitely would have taken it if I had known about it before because it sounds so fun!
3. GangaRamaya Temple
Situated next to the Beera Lake, Gangaramaya Temple is a Buddhist temple and is in fact one of the oldest and important temples in Colombo. And it is very beautiful, I must add, so it is no surprise that it is one of the most famous attractions in the city!
Because this Buddhist temple is indeed a great learning center for the locals, they also have an on-site museum with a large collection of old artifacts that I recommend you check out. Also, you certainly cannot miss the large, colorful Buddha located inside the Gangaramayya temple! On a similar note, be careful not to miss one of the most interesting artifacts: the world's tiniest Buddha statue!
FUN FACT: They also have a vintage Rolls Royce inside the Gangaramaiah Museum, as well as the first Mercedes that was brought to Sri Lanka, do you know?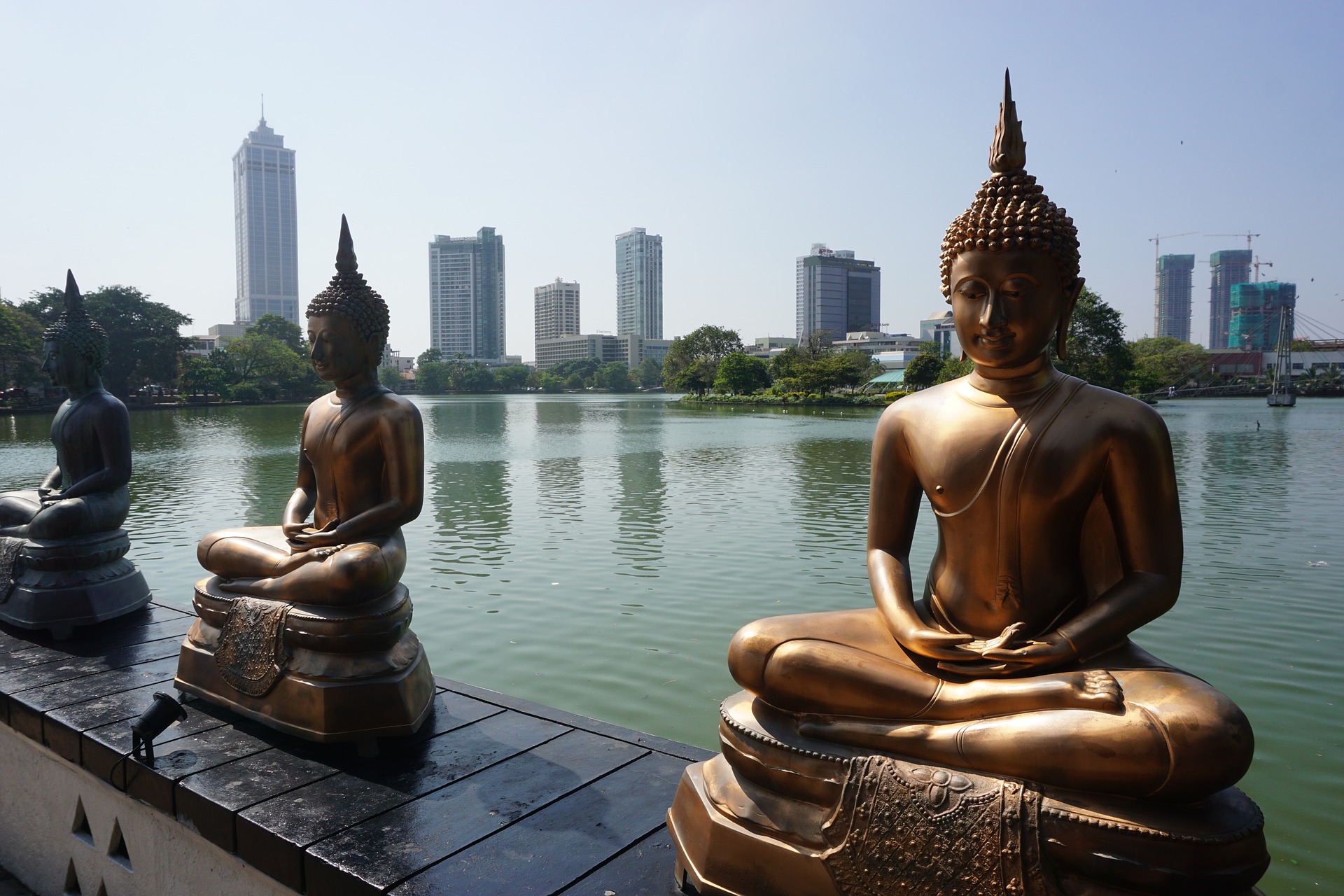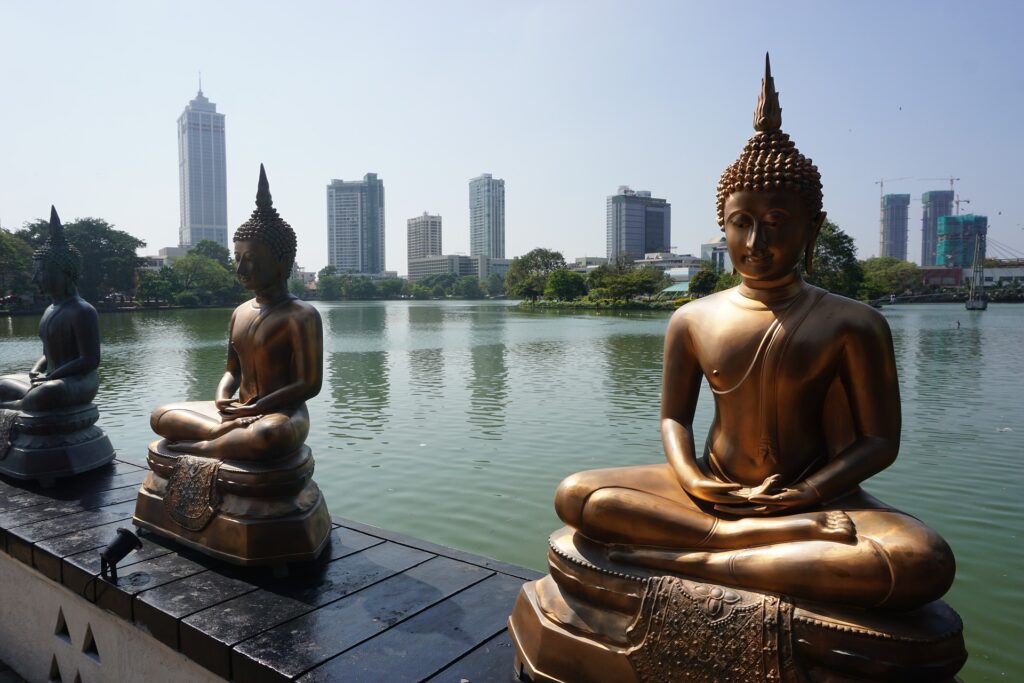 4. The Red Mosque
The Lal Masjid, also known as (Jami ul-Alfar Mosque), is a grand building and one of the oldest mosques in Colombo. This is not really any mosque I have ever seen! The building is tall, with red and white patterns, which are just mesmerizing – you can't miss it while walking on the streets. Trust me, you will like it after watching it!
Unfortunately, even though it is high on my list of places to visit in Colombo, Sri Lanka, you can only consider it from outside, as only Muslim people can go inside.
Oh, by the way, the mosque is located very close to Petta Market, which I will talk about below!
FUN FACT: Ever since it was built at the beginning of the last century (in 1908, to be more precise), the mosque has been an icon for sailors who arrived at the port of Colombo. this is amazing!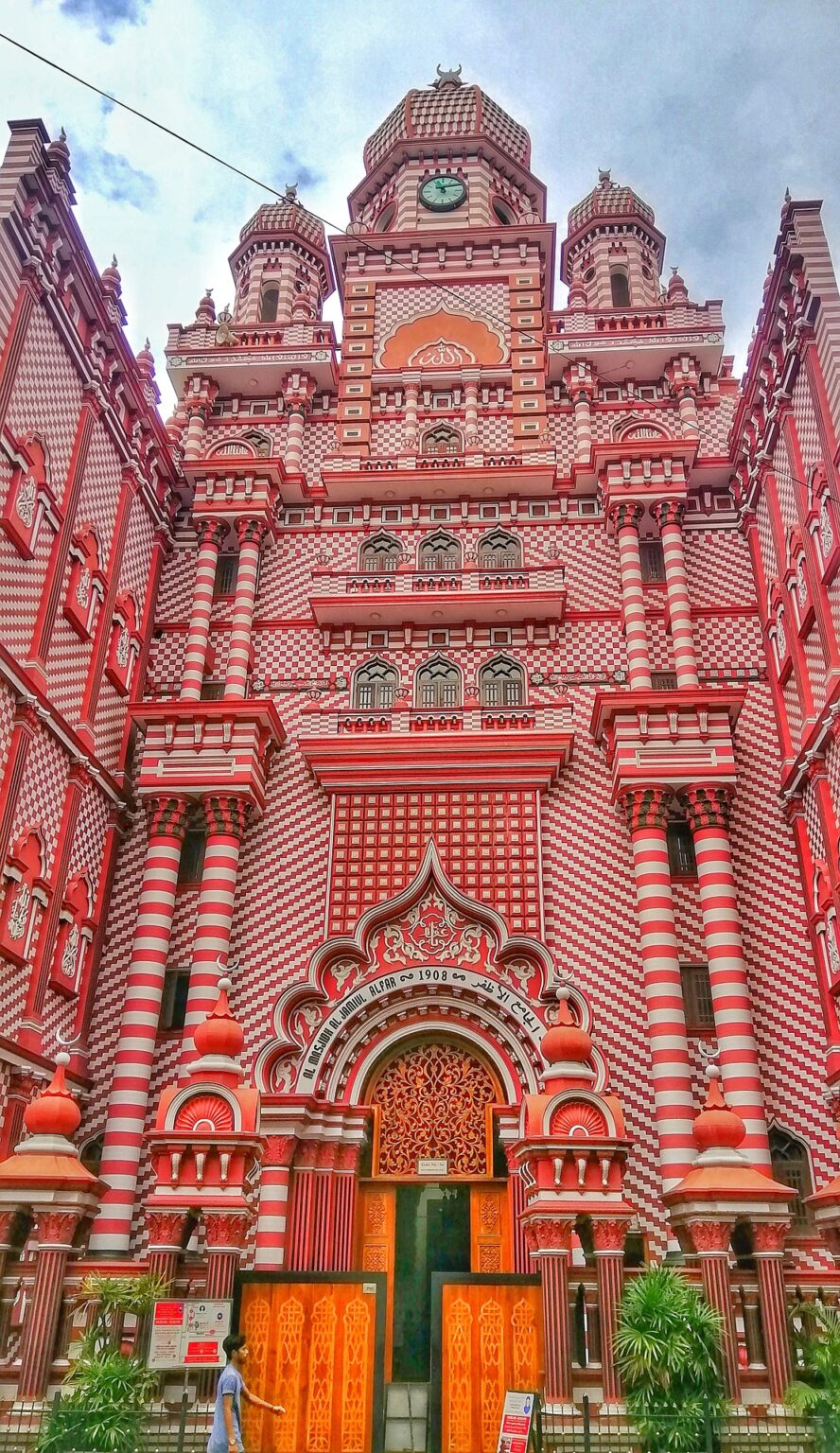 5. Mount Lavinia Beach
If you've had enough time to walk the streets and want an afternoon swim during your stay in Colombo, don't worry!
Mount Lavinia Beach is located a little outside Colombo. (But also easily accessible by tuk-tuk or taxi) and is a great place to relax and have a meal or drink in one of the beachside restaurants or pubs. It's also a good thing to do in town with kids, for example.
Note: You can also enjoy sunset views and cocktails at the Mount Lavinia Hotel, you can use their pool with a day pass that costs 1,000 (US $ 5.50) .However, the lunch buffet is super. Their week is delicious!
6. Galle Face Green
Galle Face Green is a large urban park that is half a kilometer down the coast, especially along the shores of the Indian Ocean. It is regarded as the "largest open space in Colombo" and one of the must-see things in the city! Oh, it's a great choice for those traveling with families and kids in Colombo too.
I recommend going for a sunset walk and indulging in some street food, which is a great way to end your day!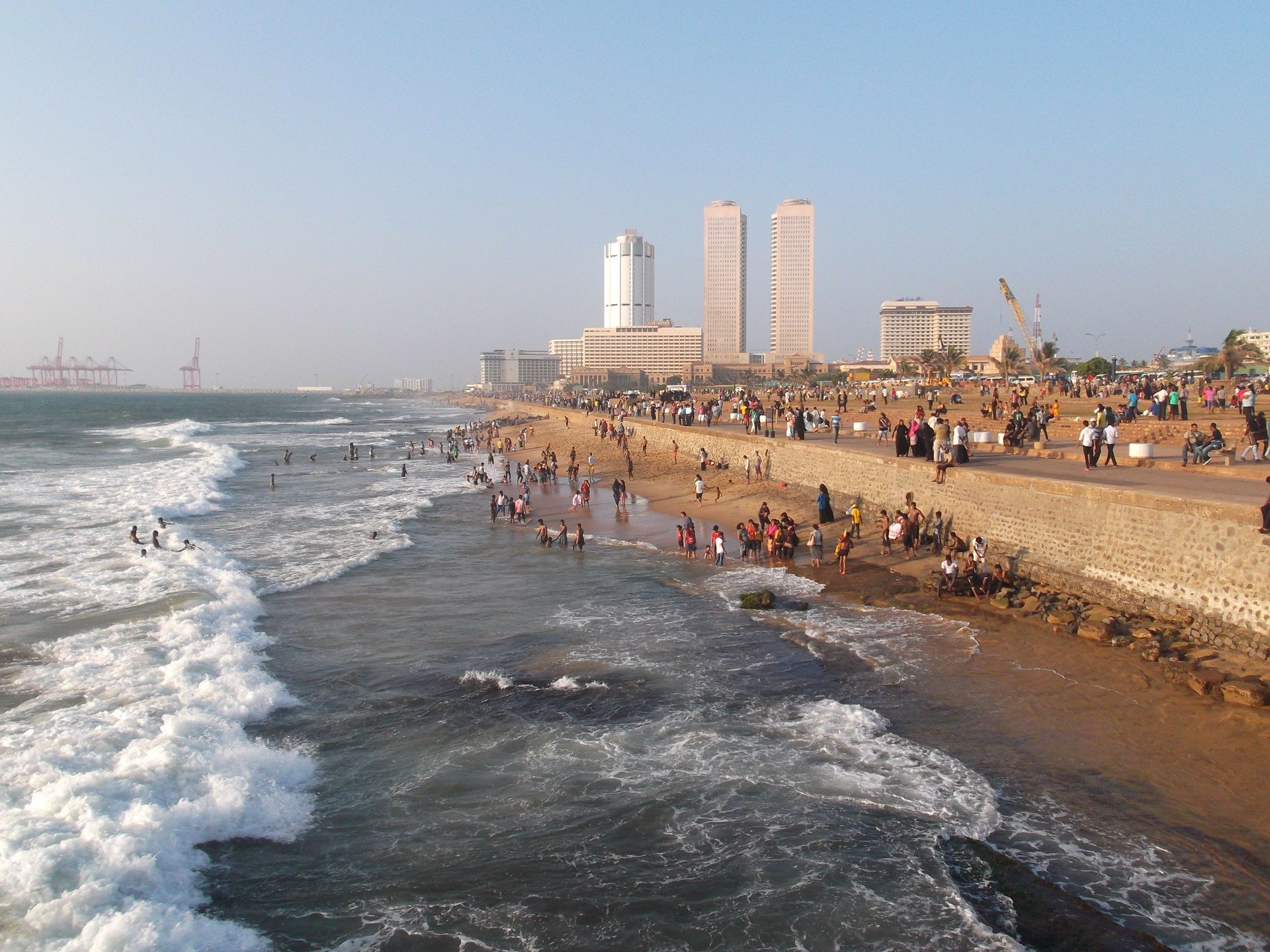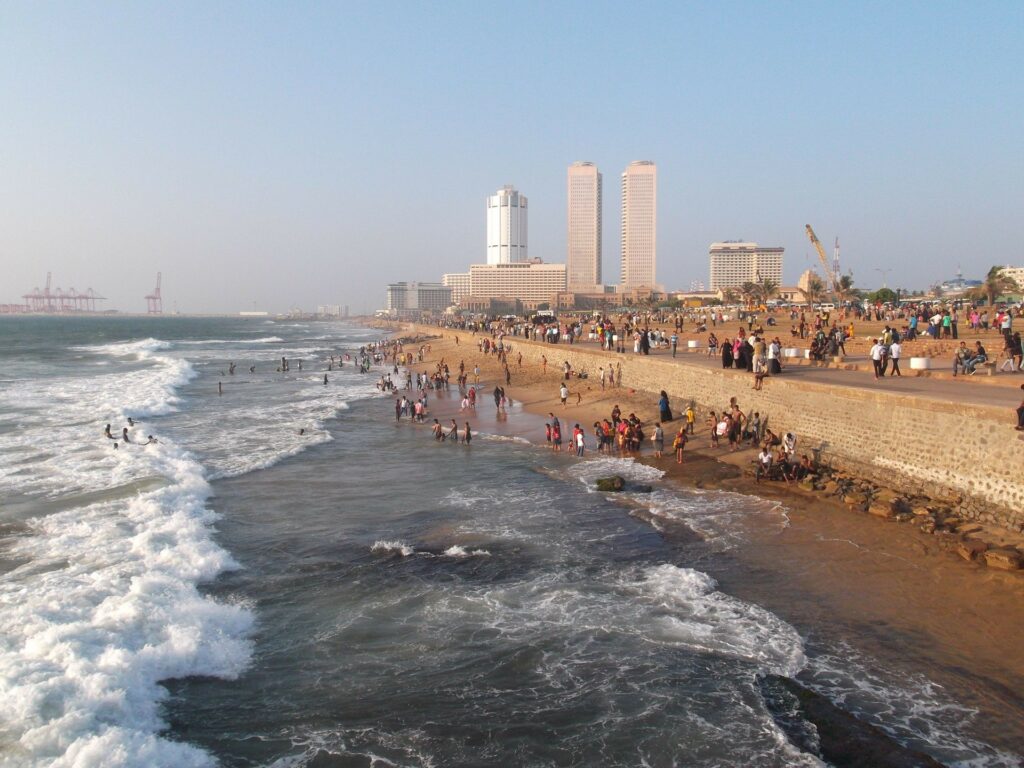 7. Lotus Tower
Lotus Tower in Colombo, Sri Lanka is the tallest man-made building in Southern Asia and trust me, you will definitely see it walking around the city on foot or by car! It is long and colorful and I think the scenery from there is just amazing!
By the way, if you can find inspiration on Sri Lanka and other things besides seeing Colombo, then I recommend checking out my post, where I will give you everything you need to know before climbing Sigiriya reef. Is one of the famous scenic spots. Sri Lanka!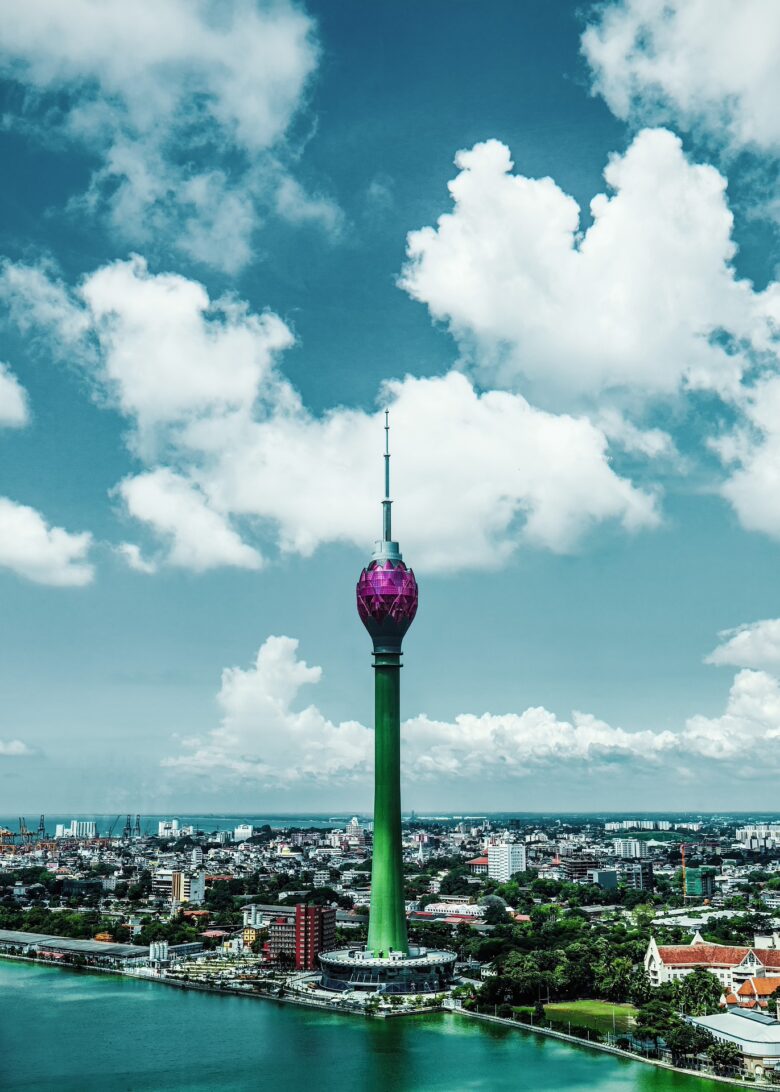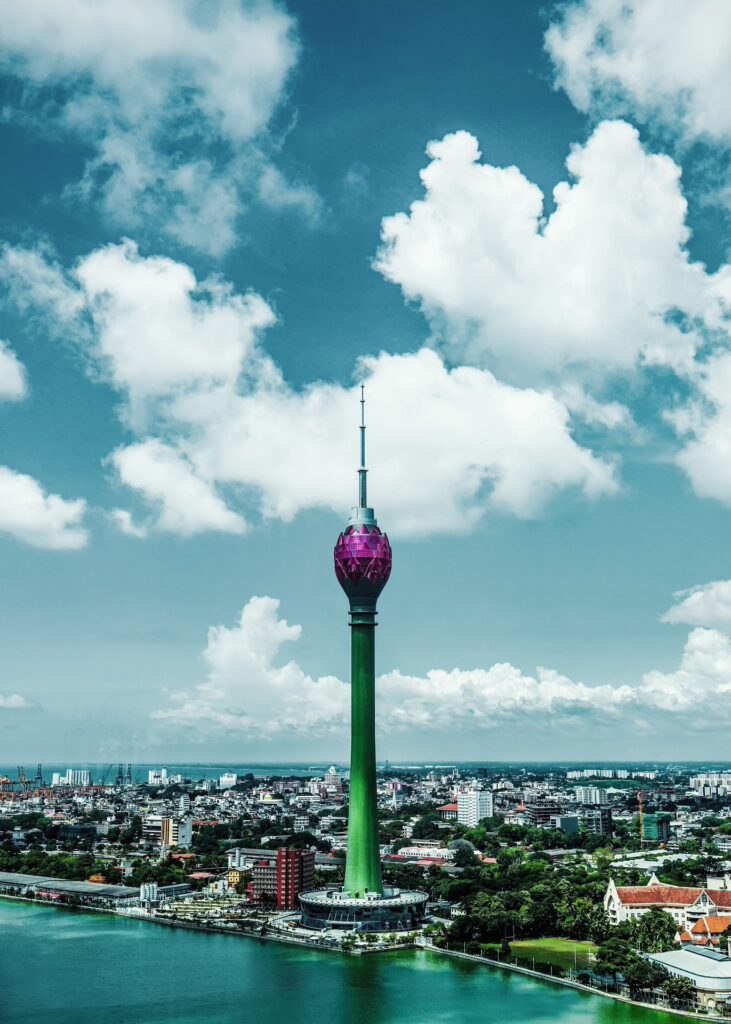 8. Sri kailawasanathan Temple
Another beautiful temple in Colombo, the temple of Sri Kailavasanathan Swami Devasthanam Kovil (try to pronounce, I miss you!) Is the oldest Hindu temple in the city. It is very beautiful, full of colorful intricate sculptures and paintings and it truly reflects a true Indian style.
It is actually one of the most popular temples inside the city, also among both locals and tourists. The main temple in this Hindu temple is dedicated to Lord Shiva and the temple is located in the Colombo Fort area, not far from the train station.
9. Viharamahadevi Park
If you are tired of walking around the city and you have already gone to Gail Face Green, then you can make a brief stop at Viharamahadevi Park – a very nice and quiet park (perfect for children) Where you will also find a Golden Buddha, as well as some lovely water springs.
The park was formerly known as "Victoria Park" and is located near the National Museum and Town Hall. If you take a bus trip to the city, you will definitely see it!
10. Ayurveda Treatment
First of all, maybe you are thinking what is Ayurveda, okay? Ayurveda is a 3,000-year-old holistic, alternative medicine (like an entire lifestyle) developed in India, whose followers believe in a balance between mind, soul and body. Some ayurvedic practices include massage, yoga, diet, meditation, and more.
As I mentioned in part one of my Sri Lanka trip, our guide organized an Ayurveda spa experience for us at Siddhappa Ayurveda Spa. This was one of the highlights of my trip and one of the best things to do in Colombo, Sri Lanka!
The first stage of the process is to go to their site for consultation with the Ayurveda physician. The idea is to tell your physical problems to the doctor (for example if you have back pain, knee pain, neck pain etc.) and they will recommend individual treatment for them. The treatment is 45 minutes long. I received an upper body massage for my back problems, focusing on my neck as well as a head massage (which I loved again). You can check the complete list of treatments that are provided.
Although I am not a big believer in alternative medicine or spiritual things, I really enjoyed the hospitality, the presentation and most of all, I got a massage at this authentic Sri Lankan spa, so I would definitely recommend doing so at your end. I will give First Day in Colombo – This will give you a great start to this journey and you will love it!
Stay in Colombo, Sri Lanka
My Experience: During my two nights spent in Colombo, I stayed at Cinnamon Lakeside, a lavish 5-star luxury hotel in the city and I loved it! The accommodation is located on the banks of Lake Beira and features more than 9 themed restaurants (one Thai, one Japanese, and more!), An on-site spa and a gorgeous outdoor pool where you can chill and relax after a day. . Discover the city! So if you are thinking about the best place to stay in Colombo, then this is your answer!
My room was super spacious and beautiful on the banks of Cinnamon Lake. No, in fact, my room was almost as big as my apartment in Bucharest and I had more (than I had) the space I needed; Other than that, The staff are very friendly and answer all of my inquiries! The location is also good; You will not be far from all the best attractions in Colombo.
One of the highlights of my stay was a variety of curries ranging from traditional Sri Lankan food to kuttu, egg shop and sushi, all kinds of fresh fruits and delicious sweets, buffet breakfast and dinner with tons of options! I always tried something new during the 2 days I spent there and it was a great way to try all kinds of authentic Sri Lankan food soon after my arrival in the city.
All in all, I wholeheartedly recommend this hotel if you flare up and enjoy your stay in the Sri Lankan capital!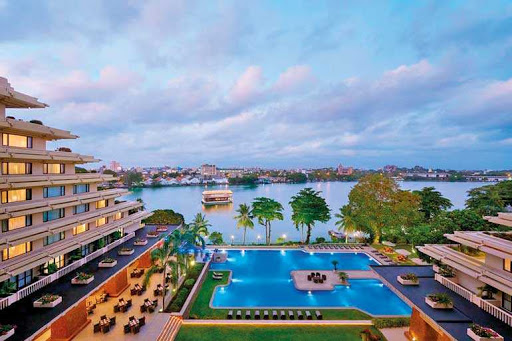 Luxury (US $ 110 and up): If Cinnamon Lakeside is fully booked for your dates, no worries, I can recommend 2 other amazing luxury hotels in Colombo. If you want to relax in a gorgeous rooftop pool, Marino Beach Colombo is your option. Needless to say that all the rooms in this hotel are super beautiful and the service is impeccable – it is truly one of the best Colombo beach resorts! Shangri-La Hotel Colombo is another quiet 5-star hotel with 4 restaurants, a pool bar and even a co-working space!
Mid-Price (from US $ 40 to $ 110): Fair View Hotel Colombo is a great 3-star hotel that boasts on-site restaurants, free Wi-Fi, clean and stylish rooms and superb service provided by staff is! The Renuka City Hotel is a 4-star option, with some rooms available at great prices! You will definitely enjoy the 3 restaurants, cafes and bars you can choose from, very good room service and friendly staff!
Budget (up to US $ 40): City Hotel Colombo 02 is a super budget option if you are looking for something that offers great value for your money! The hotel has free Wi-Fi, private bathroom, a nice terrace and a super friendly staff! Another economy option would be the Groove House Hostel – they have free bikes you can borrow to explore the city, 24-hour front desk clerks, currency exchange and more!
Travel Insurance
The most important advice I can offer is to buy good travel insurance. Travel insurance protects you against illness, injury, theft and cancellations. This is full protection in the event of a problem. I never travel without it, as I have had to use it several times in the past. You can use the widget below to find the policy that's right for you:
Disclaimer: Please note that some of the links below are affiliate links on this page, and at no additional cost to you, we will earn a small commission for a sale generated through the website. We just suggest the things we really use ourselves and never accept useless sponsored crap. Thank you so much for supporting.