New Zealand is one of the best tourist destinations in the Southern Hemisphere. Almost everyone has something. New Zealand has everything from ski resorts to volcanoes, from big cities to small towns, from beaches to mountains
New Zealand currently has a population of only 4 million. Auckland is the largest city with a population of over 1.2 million, and the capital Wellington has a population of approximately 400,000. Most of the country's population lives in the North Island. Therefore, the South Island provides an opportunity to escape the bustling city and get close to nature.
New Zealand has a lot to offer. Especially for adventure you can bungee jumping. Skiing and snowboarding Relax on the beach, biking, adventure, 4×4, skiing, surfing. Or just shopping! Most adventure activities take place in the South Island. The North Island has the charm of a big city. Great shopping and unique New Zealand attractions, such as Rotorua Maori Village.
The best way to travel New Zealand is by renting a car. Most New Zealand cities are connected to major highways. And traffic is not a problem. Most tourist areas have information centers that provide useful tourist information, maps, etc.
1. Bay of Islands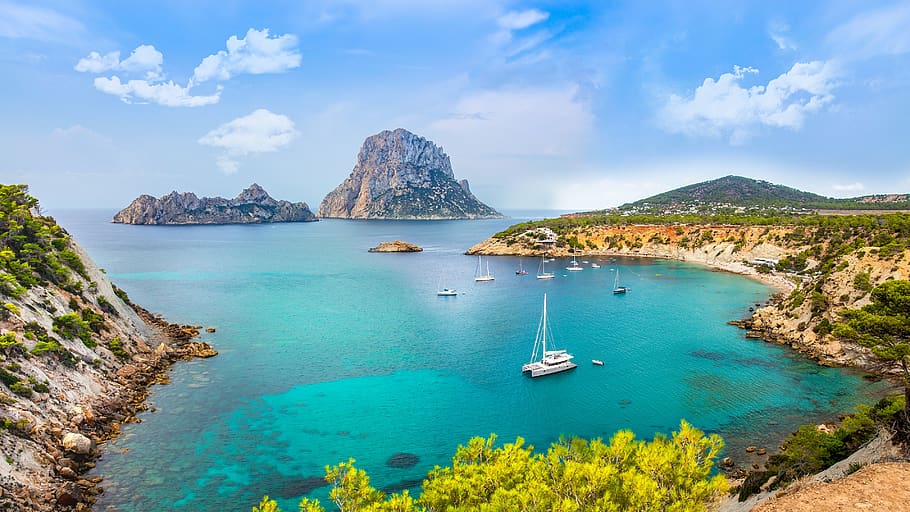 The Bay of Islands is one of New Zealand's main attractions. It consists of 144 offshore islands and an unusual coastline. All the islands are 50 kilometers from the coast, and the largest of them is about 22 hectares. Many of these islands are uninhabited. Are the other islands private or reserved?
Baía das Ilhas is a popular holiday destination for locals and tourists. Due to favorable weather conditions, wonderful beaches, quiet bays and turquoise seas, many tourists come here for deep sea fishing, swimming, boating, sailing, water skiing, jet boating and scuba diving.
Luxury Stay
Tarlton's Lodge, Bay of Islands – Tarlton's Lodge is located on a hillside with panoramic ocean and island views. Close to the beach, restaurants and Paihia town, it offers free Wi-Fi and free parking on site. All bedrooms have private Jacuzzis and private balconies with stunning sea views.
Sanctuary Palms Apartments, Bay of Islands – Overlooking the Bay of Islands, Sanctuary Palms is a 5-minute walk from Paihia Beach. All suites have a spa bath and electric fireplace in the living room. Pahia Sanctuary Palms is a 10-minute walk from the ferry terminal.
Middle budget
Paihia Beach Resort & Spa Hotel – Paihia Beach Resort & Spa offers luxurious boutique accommodation just 20 meters from the beautiful Te Tii Beach. All studios and suites have a private terrace or terrace with stunning views of the Bay of Islands.
Marlin House – Located in Paihia, Marlin House offers free Wi-Fi and stunning views of the Bay of Islands. All self-catering suites and apartments offer free on-site parking. Large colonial style Kauri villa. It was built in 1950 and is surrounded by native gardens.
Budget Stay
Austria Motel – Motel Austria is located just 150 meters from Paihia Beach. It offers self-catering apartments with a private balcony and free Wi-Fi. The hotel has a barbecue area and a sun terrace with panoramic views of the bay.
Ala Moana Motel – Ala Moana Motel is located on the waterfront in the centre of Paihia. Wi-Fi is free. All rooms have a TV with 50 satellite channels and a patio. The dining area has a microwave. Refrigerator and electric kettle.
2. Fiordland National Park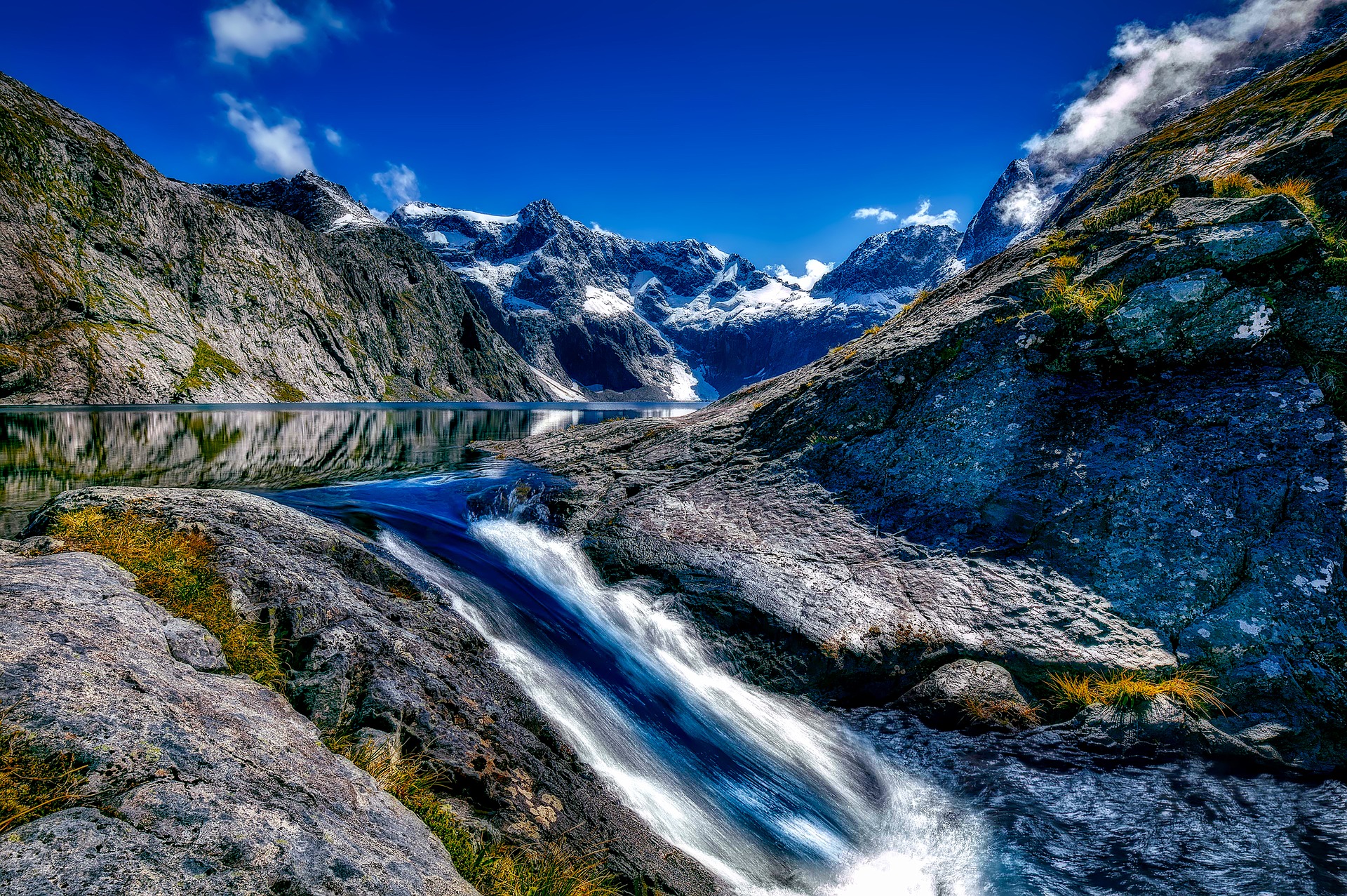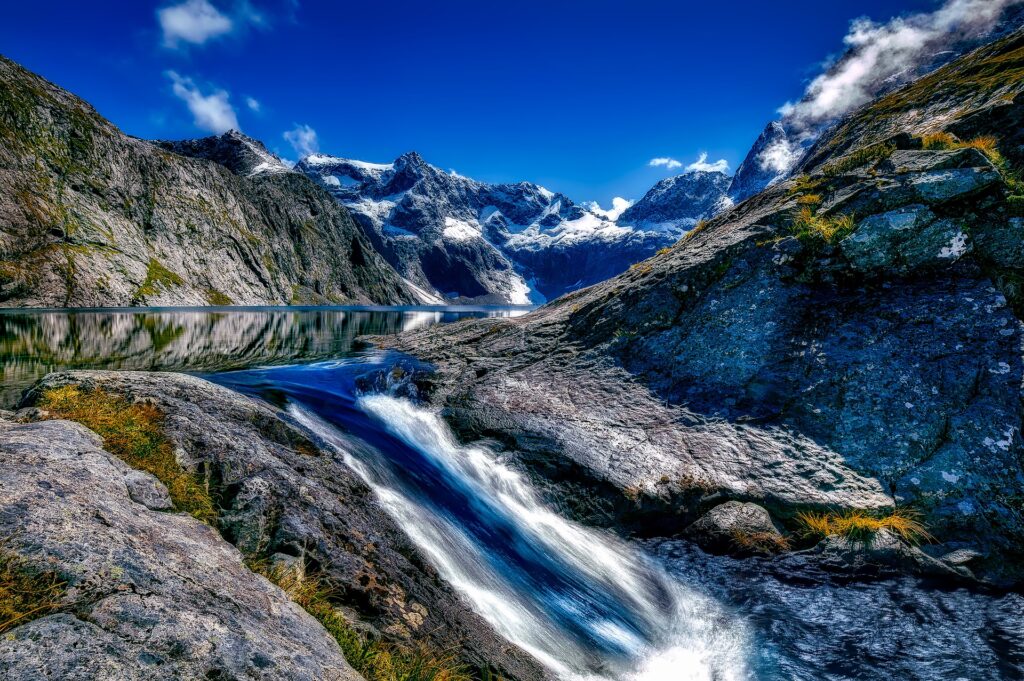 Fiordland National Park is located in the southwest of the South Island of New Zealand. It is famous for its unstable sound fjords carved by glaciers. A hiking trail to Milford Beach offers views of Pico Miter, with the jagged Earl Mountains reflected on the smooth surface of Mirror Lake. On the Cleddough River, the chasm walk passes the lookout bridge. See the big waterfall.
Luxury Stay
FiFiordland National Park Lodge – Fiordland Lodge is located in the World Heritage Site of New Zealand. Overlooking Lake Te Anau and surrounding mountains. It offers free Wi-Fi in the restaurant and free parking.
Anderson Manor – Anderson Manor is located in Te Anau, 30 km from Fiordland National Park and a 13-minute walk from Fiordland Cinema.
Middle budget
Radfords on the Lake – Radfords on the Lake offers lake and mountain views. Free parking is available outside each apartment, in front of Lake Te Anau.
Fiordland Lakeview Motel and Apartments – Fiordland Lakeview Motel & Apartments is located on the shores of Lake Te Anau. It offers self-catering apartments with free Wi-Fi and lake and garden views.
Budget Stay
Shakespeare House – This bed and breakfast is set in beautiful gardens. Just 100 metres from the shore of Lake Te Anau, all rooms are equipped with cable TV, electric blankets and tea/coffee making facilities. Offers free Wi-Fi.
Edgewater Motel – This American motel is within a 5-minute walk of peaceful Lake Te Anau and Fiordland National Park. It offers free Wi-Fi. Edgewater Motel offers 3-star accommodation and free private parking.
3. Queenstown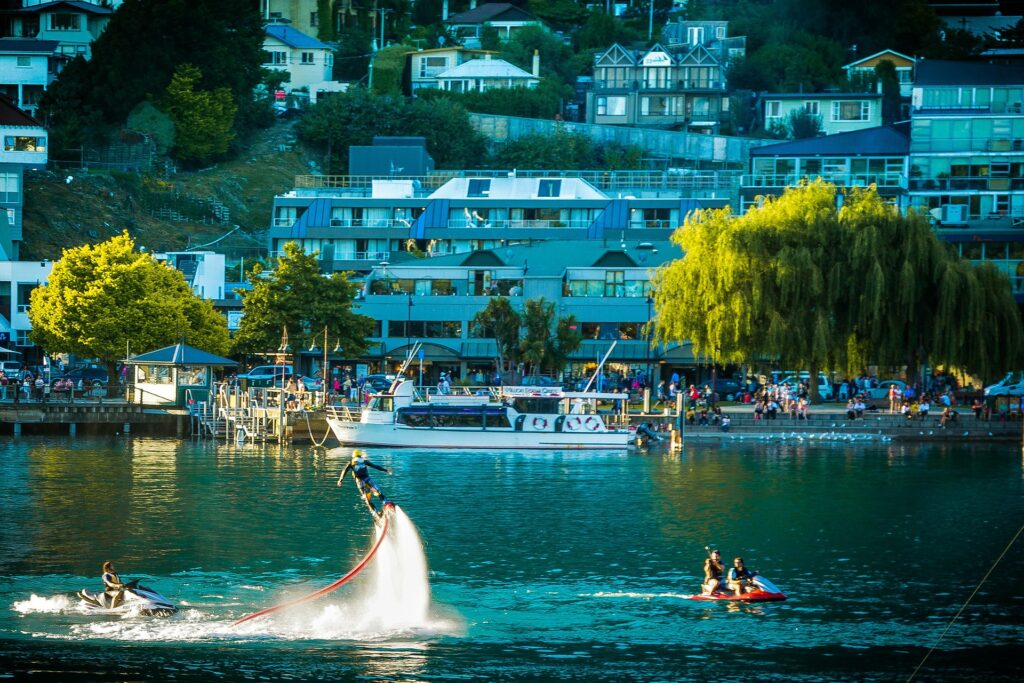 Most people choose to spend their holidays in Queenstown and enjoy the natural wonders, sports and adventure opportunities offered by the resort. However, in this city nestled in the mountains of New Zealand's South Island, you can do more.
Don't miss the main local events that take place during the holidays. You will enjoy first-class entertainment. In summer, December, January and February are full of activities and there are many theater, dance and music performances. Especially during the christmas holidays.
Luxury Stay
Commonage Villas by Staysouth – These five-star luxury villas offer stunning views of Lake Wakatipu and the surrounding mountains. All rooms have spacious living and dining areas. There is a private bathroom with a spa bath and a private balcony or terrace.
553 Shotover Apartment by Staysouth – 53 Shotover by Stay South is a self-catering accommodation located in Queenstown. Free Wi-Fi is available 200 meters from the Skyline Gondola and Luge cable cars. The Shotover River is 1.5 km away.
Middle budget
22 Hallenstein Apartments by Staysouth – 22 Hallenstein Apartments by Staysouth are a 10-minute walk from the centre of Queenstown. Here you can enjoy the vibrant nightlife and cafe culture of Queenstown.
15 Melbourne by Staysouth – 15 Melbourne by Staysouth Lake Views This air-conditioned apartment is 6 km from Queenstown Convention Center and 1.1 km from Skyline and Renovation Gondola. It offers free Wi-Fi and free parking.
Budget Stay
Alpine Suites Queenstown – Located in the Otago area, Alpine Suites Queenstown offers all rooms with mountain and lake views. The beautiful lawn with garden furniture is perfect for relaxing in the sun.
Earnslaw Lodge – Earnslaw Lodge is a 12-minute walk from the centre of Queenstown. Free parking and Wi-Fi are provided. Unlimited free times per day Some rooms have lake views. There is a bus stop near the hotel.
4. Rotorua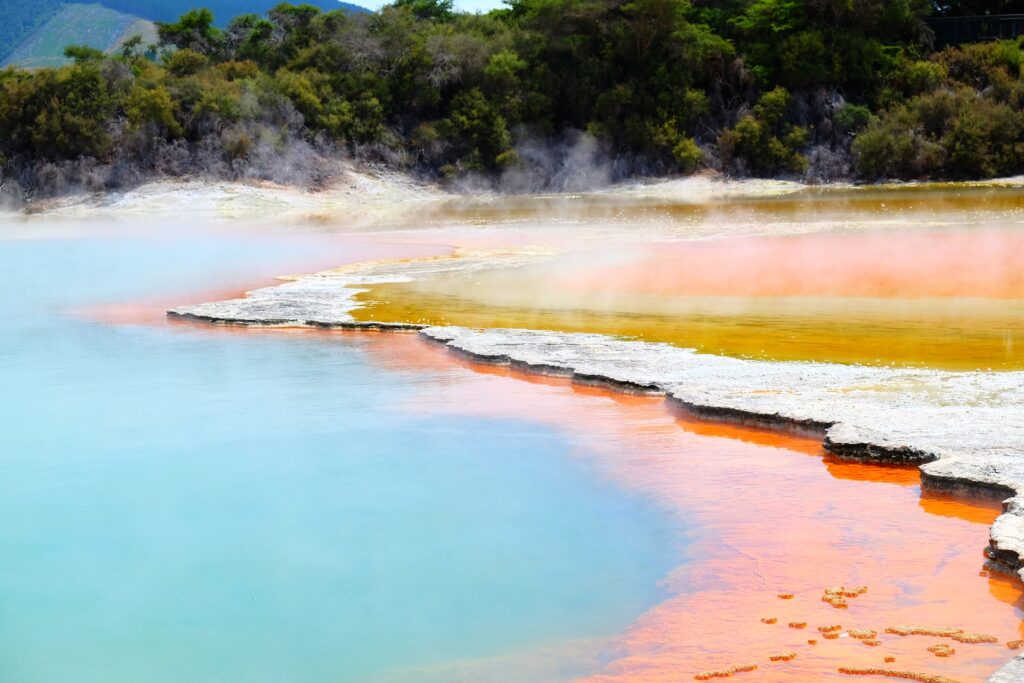 Rotorua's status as a tourist destination is quite controversial. Because this is the center of tourist buses, it is also a gathering place for a large number of tourists. The town itself is not very beautiful. Although Lake Rotorua is amazing, I still did not miss the round trip to Rotorua in New Zealand for many reasons. No matter how boring tourists you encounter. Maori performances are also a good way to watch. Learn about the rich culture and traditions of the indigenous people of New Zealand. Their culture is amazing. Even travel shows can teach you things, such as haka shows and hanki (rice kiln) dinners, so be brave to try them.
Luxury Stay
Peppers on the Point Lake Rotorua – Peppers on the Point is surrounded by Lake Rotorua and is a luxurious resort with stunning views of Mokoya Island. Guests can enjoy a hearty dinner in the restaurant. Or enjoy a massage or treatment at the spa.
Solitaire Lodge – Solitaire Lodge is a luxurious 5-star hotel located 20 minutes' drive from Rotorua, on a private peninsula on the shores of Lake Tarawera.The spacious suites are decorated in a contemporary style.
Middle budget
Rotorua City Center Holiday House – Rotorua City Centre Holiday House is located in Rotorua, 1.1 km from Polynesian Spa and 1.8 km from Maori Village Tamaki.
City Lights Boutique Lodge – City Lights is a boutique hotel located on the slopes of Mount Ngongotah, just 8 minutes' drive from Rotorua. The hotel offers a gym, hot tub and sauna. All rooms at City Lights Boutique Lodge have a private bathroom with bathrobes. Water, tea/coffee, bottled water, flat-screen TV, radiator and double-glazed windows.
Budget Stay
Central Rotorua Beauty – Located in Rotorua, Central Hotel Rotorua Beauty has a garden and terrace. The apartment is 1.6 km from Maori Tamaki Village, 3.2 km from Rotorua International Stadium and 3.5 km from Te Puia.
Rotorua Hideaway Lodge – Rotorua Hideaway Lodge is nestled among 4 acres of tranquil landscaped gardens. It offers affordable rooms with free Wi-Fi and free parking. The hotel is a 7-minute drive from Rotorua city center.
5. Tongariro National Park
Tongariro National Park is located in the center of the North Island and is the oldest national park in New Zealand. In fact, it receives more than one million tourists every year, making it one of the most visited places in the country.
Not surprisingly, the many outdoor recreational activities in Tongariro National Park are enough to make you tired of reading. One of the most important activities for calculating everything is walking or walking, as mentioned here. Short walks, long walks, both are acceptable.
If you have four to six days to kill you should seriously consider the Tour de la Montagne route. Crossing most of the volcanic plateaus and high-altitude scenery, the Rotopham Lake Circuit is equally sacred. There are lakes to swim in, and there are many birds to look for.
Bird watching is a great recreational activity in Tongariro National Park. There are about 56 species of animals for viewing, so it is also important to observe the local wildlife. So be sure to look for red deer and orchids.
Luxury Stay
Powderhorn Chateau, Ohakune – Podhorn Castle is located in Ohakune at the entrance of Tongariro National Park, only 300 meters from Ohakune Station. The hotel offers an indoor heated swimming pool, a restaurant and free parking.
Middle budget
The Park Hotel Ruapehu – Located in Tongariro National Park, Park Hotel Ruapehu offers affordable accommodation in a beautiful alpine environment. You will enjoy 500MB of free parking and Wi-Fi.
Budget Stay
Skotel Alpine Resort – Located in the heart of Tongariro National Park, Skotel Alpine Resort features a restaurant, hot tub and terrace bar with fireplace. Most accommodations have stunning views of the mountains or the area.
6. Fox and Franz Josef Glaciers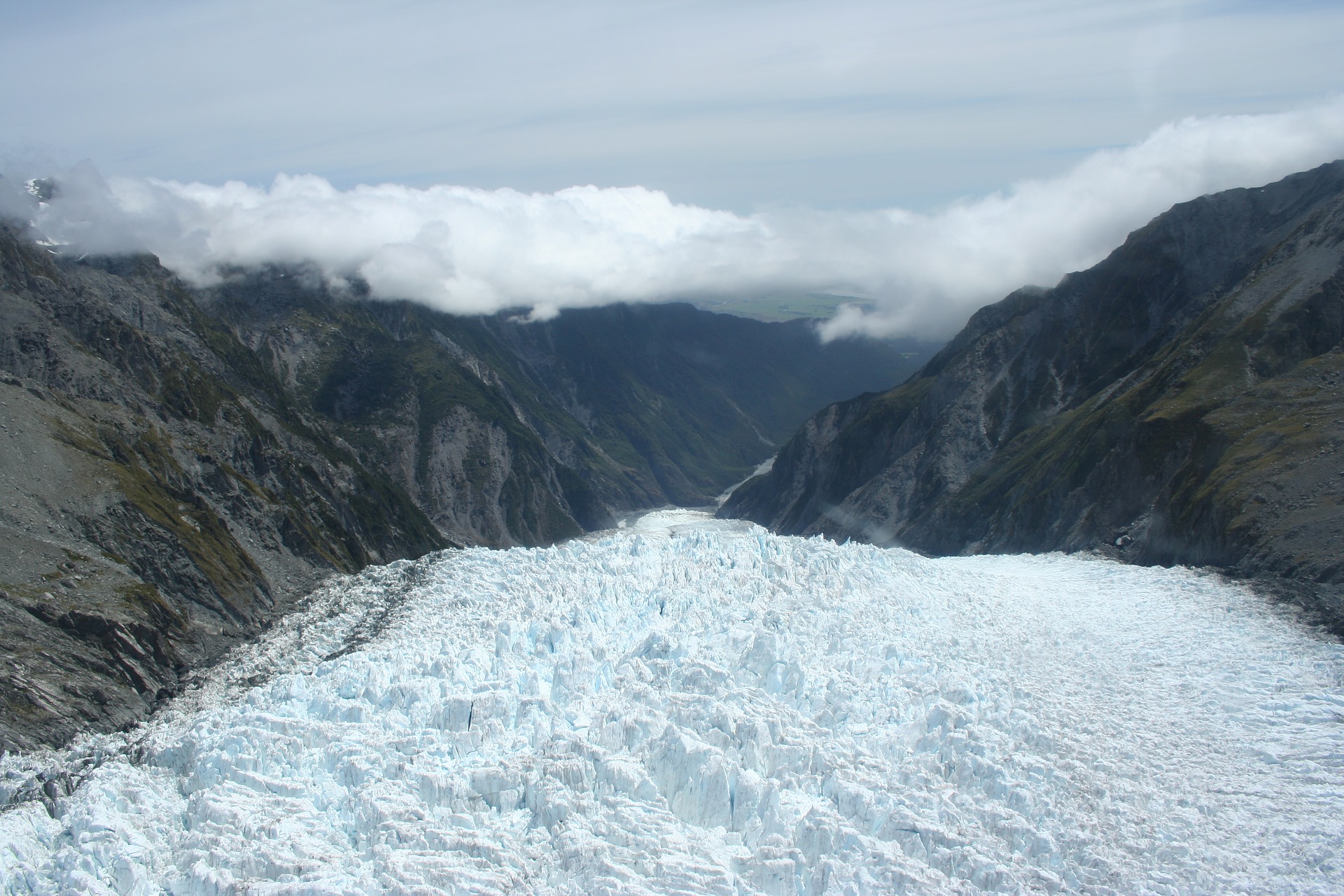 Franz Josef Glacier is no longer visible from roads or villages. But in the dark days there is no doubt where it is. The pale light seemed to radiate from the canyon. To see the sparkling beauty of the 11 km long glacier, you must drive through this valley. Glaciers appear at an incredible speed. Glistening white and turquoise ice on the snowy field on the high mountain between the Baird and Fritz mountains.
The current Franz Josef Glacier is less than 7,000 years old. More than 14,000 years ago, it had a huge lateral moraine ancestor. (Glacier fragments) all the way to the coast. The typical 30-meter-high crescent-shaped ridge is called the Waiho Loop and sits steeply above the river plain. It is a jetty formed when the glacier regenerated about 12,000 years ago. Reduce duration.
Luxury Stay
Franz Josef Villa – Located in Franz Josef, Franz Josef Villa offers a hot tub. This air-conditioned accommodation is 6 miles from Franz Josef Glacier. The hotel offers private parking and free Wi-Fi.
The Church at Fox – Fox Church is a restored 60-year-old church. Made of New Zealand stone and wood. This room features a patio with mountain views and a luxurious bathroom with walk-in shower.
Middle budget
Distinction Fox Glacier Hotel, Fox Glacier – Te Weheka Boutique Hotel is just a short walk from the impressive Fox Glacier. The hotel offers spacious and modern rooms.
Rainforest Deluxe, Franz Josef Glacier – Located in Franz Josef, Rainforest Deluxe offers accommodation with a restaurant. The Franz Josef Glacier is 10 km away.
Budget Stay
Glenfern Villas, Franz Josef Glacier – Glenfern Villas offers luxurious and spacious apartments. With satellite TV and free Wi-Fi. Each has a large balcony with a seating area and views of the countryside or the Alps.
Westwood Lodge, Franz Josef Glacier – Westwood Lodge is surrounded by native gardens. The hotel offers luxury bed and breakfasts with mountain views.
7. Aoraki/Mount Cook National Park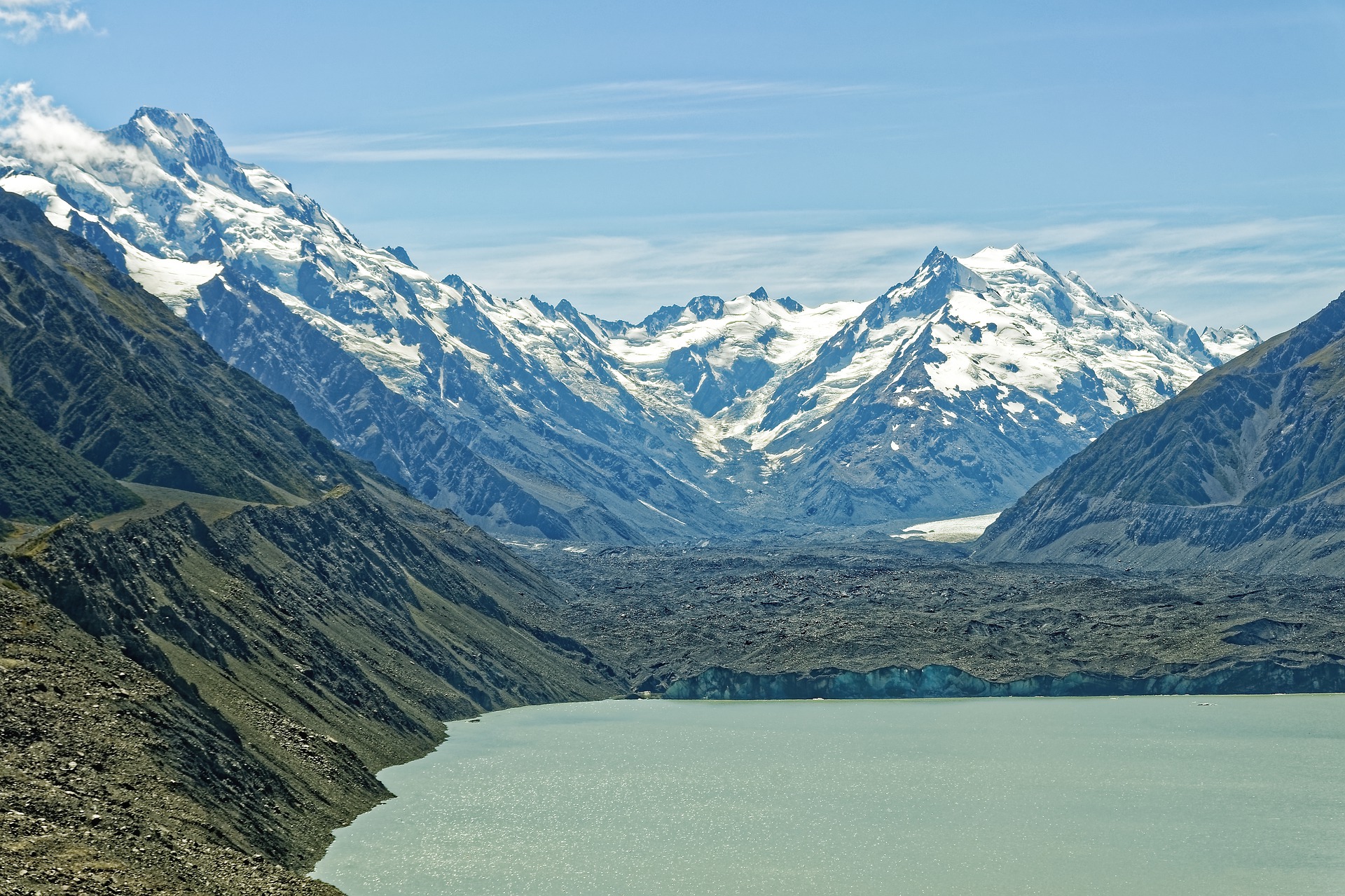 Mount Aspalin National Park is located in the main part of the Southern Alps. Its focal point is the majestic Mount Asparin. The highest mountain in New Zealand outside Mount Cook National Park is 3,027 m above sea level and is a towering mountain. There are four main ridges at the top.
The park was established in 1964 and now covers nearly 290,000 hectares, from the Hast River in the north to the Humboldt Mountains in the south. This is a mountainous and rugged area. It has more than 100 glaciers of various sizes. Although most of them are steadily decreasing.
Luxury Stay
The Hermitage Hotel Mt Cook, Mount Cook – Located in Mount Cook National Park, Hermitage Hotel offers a variety of rooms and suites. All rooms have magnificent mountain views, and most rooms overlook Mount Cook.
Middle budget
Aoraki Court Motel, Mount Cook – Aoraki Court Motel is a modern hotel located in Aoraki Mount Cook National Park, with beautiful views of the surrounding mountains and Mount Sefton.
Budget Stay
YHA Mount Cook, Mount Cook – YHA Mt Cook is located in the heart of the Southern Alps, overlooking Mount Cook, 200 metres from Sir Edmund Hillary's Alpine Centre.
8. Kaikoura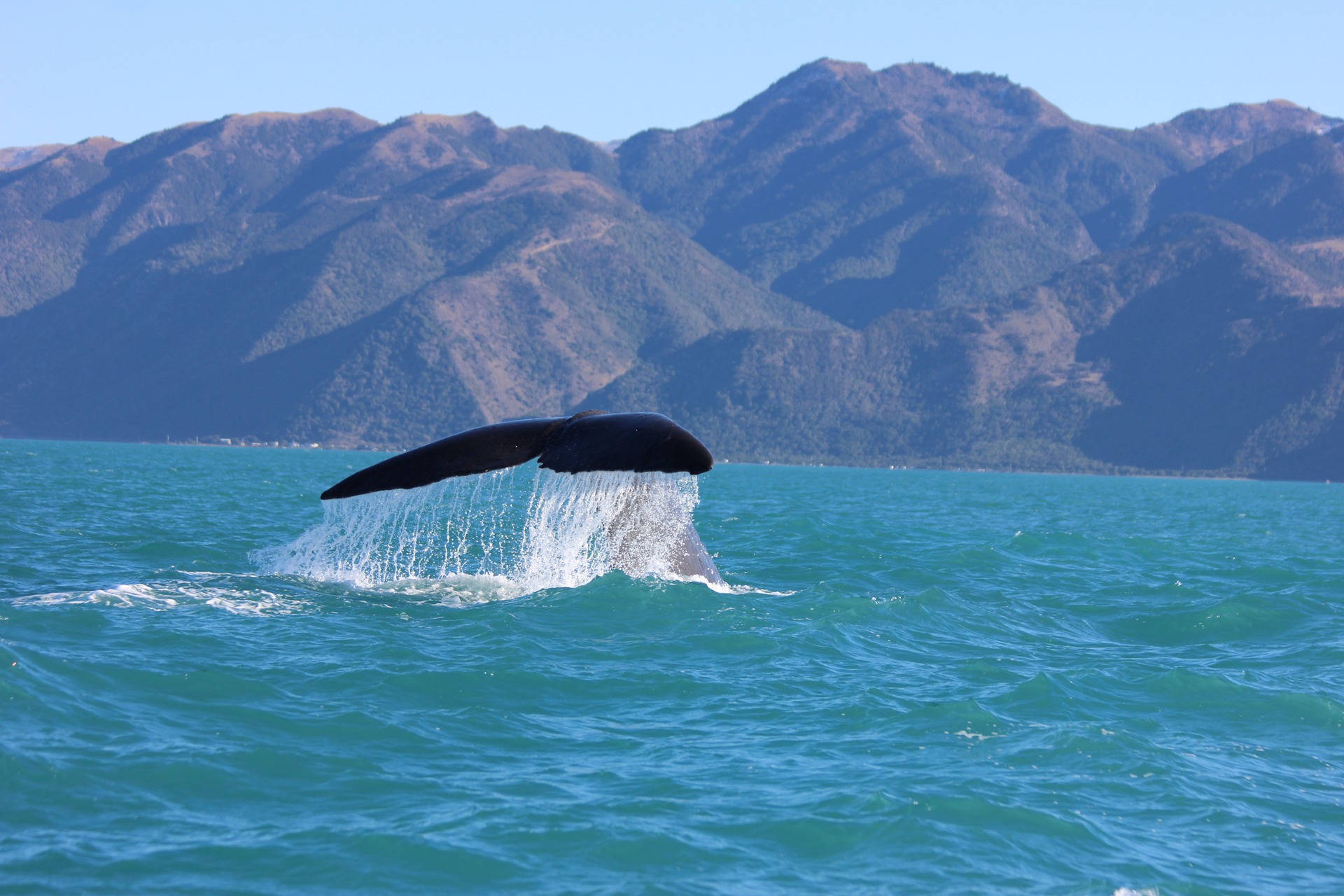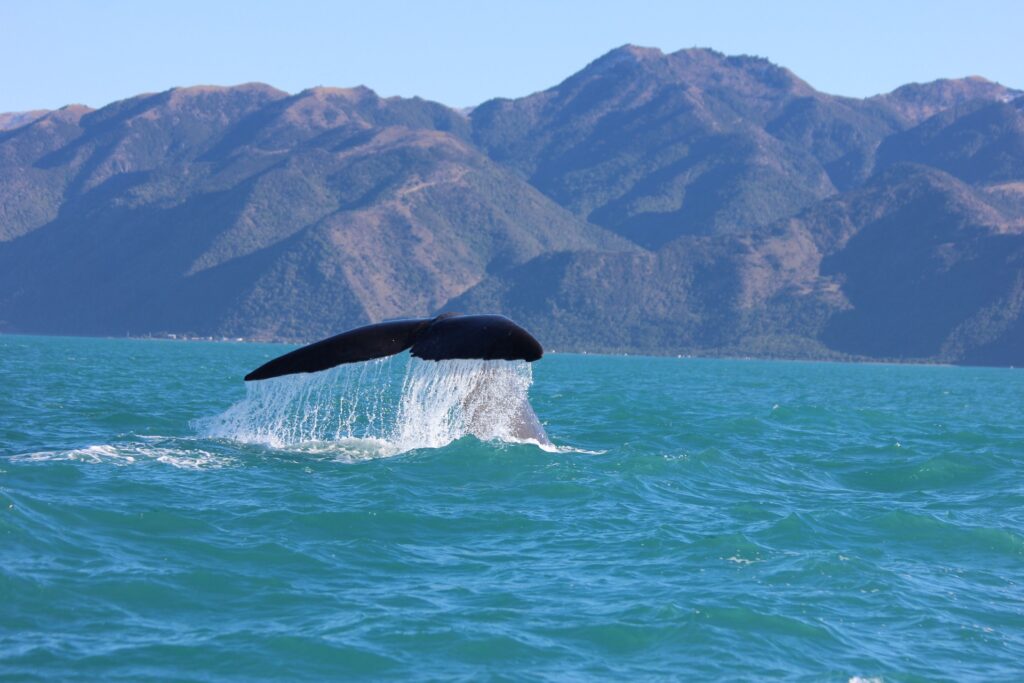 Kaikoura is located on the east coast of New Zealand's South Island, a 2.5-hour drive north of Christchurch, along Highway 1. This trip offers incredible views of the coast. But this is what awaits you at the destination. From the sea, Kaikoura is one of the crown jewels of New Zealand travelers because of the wide variety of marine life that inhabits or travels through here. Especially the rare and endangered whales and dolphins. Whale watching is one of Kaikoura's main attractions.
Luxury Stay
Kahutara PurePod – Kahutara PurePod is an elegant and environmentally friendly glass house with a beautiful location. The hotel is only a 20-minute drive from Kaikoura and offers guests beautiful views of the river, mountains and jungle.
Shearwater Apartments – Shearwater Apartments features sea views, free WiFi and free private parking, located in Kaikoura. All rooms have a seating area, cable TV and a private bathroom with hairdryer and shower.
Middle budget
Kakatu Retreat – Kakatu Retreat is located in Kaikoura, next to an 18-hole golf course and just a 5-minute walk from the beach. The hotel has an outdoor terrace with views of the nature reserve and mountains. And some sea views.
Seafront Apartment at Kaikoura Holiday Homes – Located in Kaikoura, Canterbury, Seafront Apartment at Kaikoura Holiday Homes offers free WiFi access and free private parking spaces.
Budget Stay
Bay Cottages Motel, Kaikoura – Bay Cottages are located on the waterfront of the southern bay of Kaikoura.
Free private parking is provided here. You will find everything you need in the cabin. Hair dryer and free wireless internet from free toiletries.
9. Coromandel Peninsula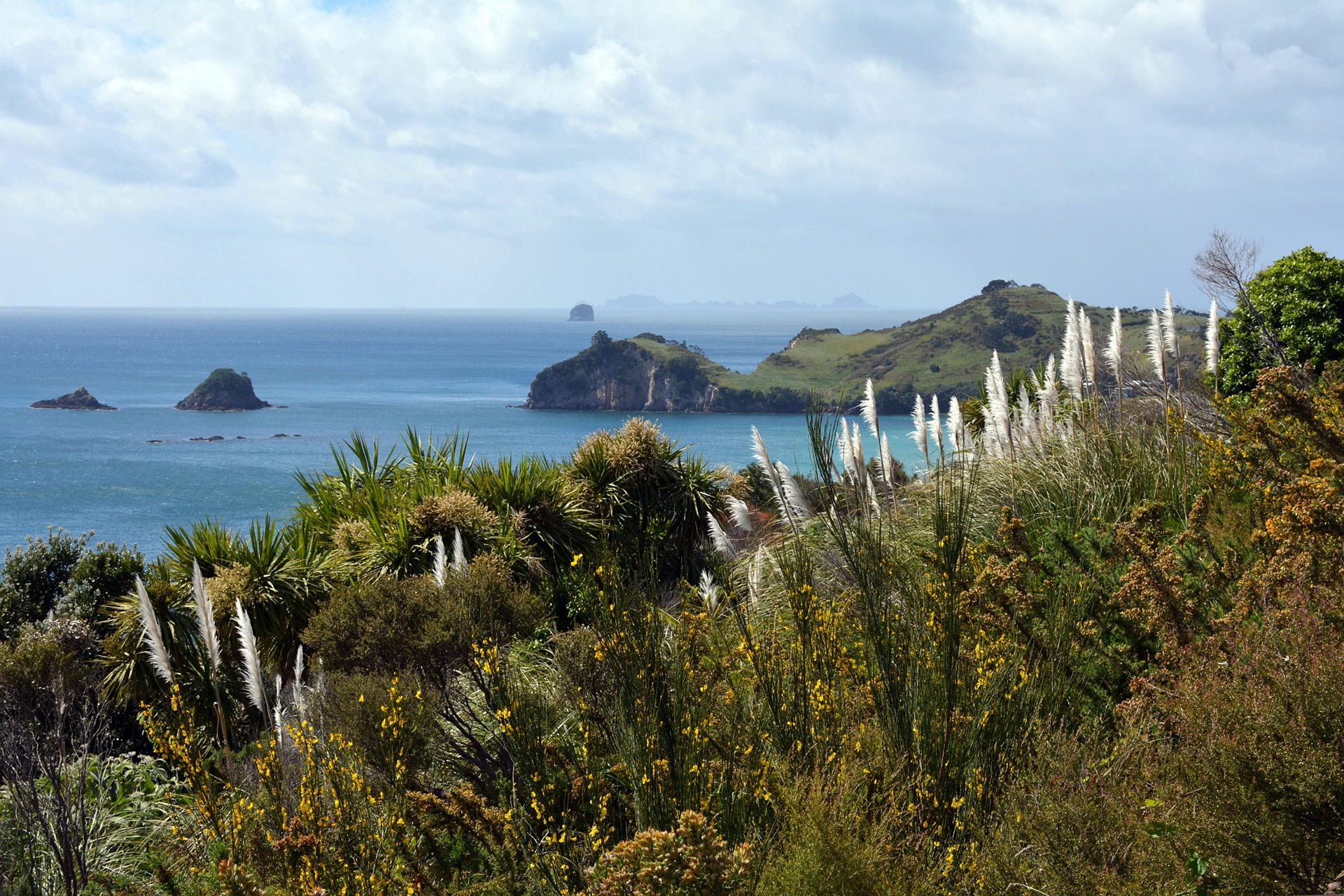 The Coromandel Mountains straddle the peninsula and have the most spectacular mountain views in the North Island. The highest peak is Mount Te Aloha at an altitude of 953 meters. Good luck to tourists. There is a highway running along the east and west coasts. Take a walk along this winding road, connecting many interesting cities in a beautiful way.
When gold was discovered in the mountains in the 1850s, the population of the area was especially Coromandel City. As miners followed the gold rush of that era, it grew very rapidly. Today, gold, silver, lead and zinc are still known. But residents and environmentalists are unlikely to allow any form of exploration of the area except tourism.
Luxury Stay
Te Puru Beach Lodge, Te Puru – Te Puru Beach Lodge is a 4.5-star bed and breakfast with a garden, terrace and barbecue facilities.
Sovereign Pier On The Waterways – Sovereign Pier On The Waterways offers luxurious waterfront accommodation with kitchens, private balconies and spectacular views.
Middle budget
Pauanui Pines Motor Lodge – Pauanui Pines Motor Lodge is just 100 metres from Village Shopping Centre and features an outdoor swimming pool. BBQ area and tennis court.
Grand Mercure Puka Park Resort – Surrounded by 10 hectares of virgin forest, this peaceful resort is located on New Zealand's beautiful Coromandel Peninsula. Combine the beautiful natural environment with personalized service.
Budget Stay
Albert Number 6 Motel – Albert Number 6 is located just 50 meters from the beach on the Pacific Coast of Coromandel. Whitianga's main attractions, including the city center, are 150 meters away.
10. Auckland, North Island
There are two of New Zealand's most popular attractions on the North Central Island: the Hobbiton movie set and the spectacular Waitomo Caves. Now you can see them in one day on a great value intercity trip in Auckland!
Sit back and enjoy the lush countryside and head south from central Auckland to this magical place of Middle-earth-a private farmhouse on the outskirts of the world-famous Matamata. As the filming location of Hobbiton in "Sir Peter". Jackson Prize-winner of the Lord of the Rings and The Hobbit trilogy.
Luxury Stay
HotPark Hyatt Auckland, Auckland – Park Hyatt Auckland features a restaurant and an outdoor swimming pool. Gym This 5-star hotel offers a garden and air-conditioned rooms with free Wi-Fi.
Sofitel Auckland Viaduct Harbour – This hotel is located in the entertainment area of the Viaduto Basin, surrounded by restaurants and bars. It also has views of the Viaduto Porto basin.
Middle budget
Avani MetropoAvani Auckland Metropolis Residences – Avani Metropolis Auckland Residences has an indoor pool and gym. It is 400 meters from the Auckland Art Gallery and the Auckland Skycity Convention Center.
Adina Apartment Hotel Auckland Britomart – Opened in November 2015, Adina Auckland, Britomart Aparthotel is just 200 meters from the Spark Arena. You can take advantage of 500 MB of free Wi-Fi.
Budget Stay
No. 9 Hotel, Auckland – No 9 Hotel is a 3-star mixed accommodation located in Auckland. It provides hotel and backpacker accommodation.
Alpers Lodge, Auckland – Alpers Lodge & Conference Centre is a 10-minute drive from Auckland city centre. 1.1 km from Newmarket Railway Station. The hotel has a breakfast/dinner restaurant. Free parking is provided.
CONCLUSION:
Yes, you have read my complete guide to New zealand! Hope this article is helpful to you, and you have found your dream place in the previous list. In this article, I have told you all about the 10 best communities. Personally stay in New zealand-I have chosen recommended hotels from every hotel. Therefore, you can have everything you need in one place.